If you want to deeply nourish your skin with high quality nutrients, then make this DIY essential oil night cream!
Night creams are amazing skin care products you simply can't do without! They contain ingredients that deeply nourish skin and promote cell renewal and regeneration. Night time is an important time for your skin. It's when the skin starts renewing and repairing itself. So that's why applying the right products to your skin just before bed can help you maintain healthy and lovely skin.
If you have blemishes, inflammation or acne, make your own night cream now and watch your skin heal and become vibrant! Essential oils are vital ingredients that you must add to your DIY night cream. They contain powerful antioxidants and have the following benefits for skin:
Encourage cell renewal and regeneration
Boost collagen production
Smooth out wrinkles
Fight acne
Soothe inflammation and redness
Improve blood circulation
Get rid of under eye bags and puffy eyes
Reduce dark circles
Fade away dark spots & marks
Treat hyperpigmentation
Heal blemishes
And so much more!
Below is the DIY essential oil night cream recipe – remember to religiously apply it at night time without fail!
DIY Essential Oil Night Cream Recipe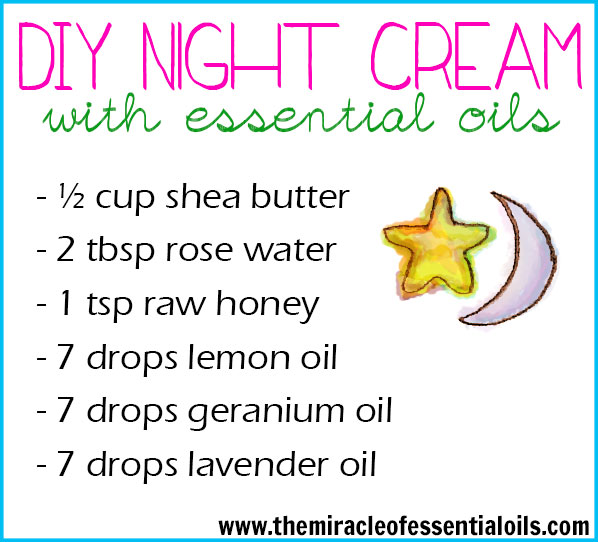 What you need
Directions
Simply measure out ½ cup of shea butter and place it in the Magic Bullet.
Also add 2 tbsp of organic pure rose water and 1 tsp of raw honey into the Magic bullet.
Blend till you get a white cream. It will take a few seconds.
Now transfer the cream into an amber glass jar.
Carefully add 7 drops of geranium oil, 7 drops of lemon oil and 7 drops of lavender oil into the cream.
Stir well with a disposable chopstick or handle of a long spoon.
And what do you know?! Your DIY essential oil night cream is ready! Store it in a cool dry place.
To use, get a pea-sized amount and dot it all over your face. Now massage it upwards on your clean and dry face for 2 minutes.