Make this fun, fresh and flirty DIY Essential Oil Perfume Spray and enjoy its amazing fragrance!
DIY Essential Oil Perfume Spray
Perfume sprays are so fun to make and use! When I was younger, I had a taste for lovely fresh, floral and citrusy perfume sprays. When I discovered I could make my own perfume spray with the help of essential oils, I was exhilarated! And it's so fulfilling when you know that you're going to be using all natural ingredients!
Now when it comes to DIY perfume sprays, you must know that the scent is lighter than other perfume applications such as solid perfume or roll on perfume. That's because a lot of the spray is dispersed into the air.
Also, in perfume sprays you can add alcohol or leave it out. Alcohol is a good emulsifier for essential oils, especially in perfume making. In this DIY essential oil perfume spray recipe, I won't be using alcohol. Instead, Epsom salt will be used as an emulsifier. For the essential oils, we shall be using ylang ylang, lime and lavender which when combined together create a fresh, fun and flirty scent!
Let's jump onto the recipe!
How to Make DIY Essential Oil Perfume Spray
Tantalize your senses with this fresh, flirty perfume spray!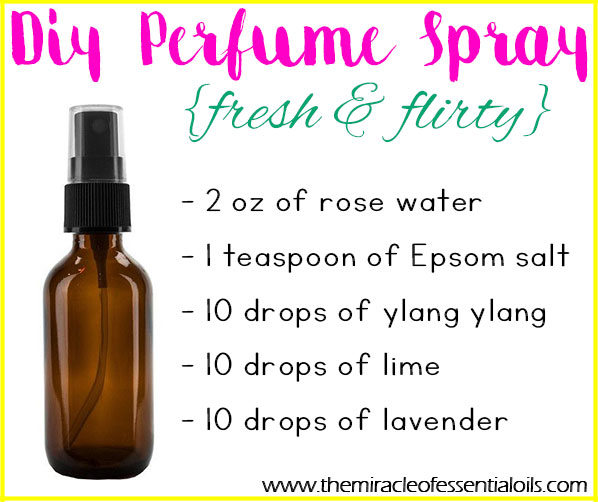 What you'll need:
2 oz glass spray bottle
¼ cup of rose water
1 tsp of Epsom salt
10 drops of ylang ylang
10 drops of lime
10 drops of lavender
Directions:
Open up your glass spray bottle and add Epsom salt (preferably fine, not coarse) to the bottom of your bottle.
Drop in each of the essential oils carefully.
Allow this to rest for 5 minutes, with the lid closed. The Epsom salt acts as an emulsifier to dissolve and amalgamate the essential oil.
Then add in the rose water into the bottle, tightly screw on the cover and shake to mix the ingredients thoroughly.
Use the spray as you normally would, by spritzing on your clothes and body!