One thing I scrub the heck out of is wax on apples. It always makes me frustrated to have to spend some good time washing an apple for longer than you'd take eating it. So that's why it's mighty useful to have this DIY essential oil produce wash around!
Washing market produce before you eat doesn't just stop at using tap water, wiping it dry then tossing it into the fridge. You have to wash it thoroughly with a cleaning agent. Even if your produce is organic, you still have to wash it well since you don't know if it fell in dirt, how many hands touched it and what bacteria are hiding in it.
A produce wash doesn't just remove wax off your favorite fruits and vegetables, it also scrubs off germs and toxic pesticides.
Instead of using dish soap, which also contains toxic ingredients, to clean your produce, make this DIY essential oil produce wash. It's safe, gentle, effective and all-natural!
Homemade Essential Oil Pesticide Recipe
For washing delicate produce: grapes, berries and stuff that can easily mush up, you will need to add them into a bowl first. Then add the produce wash solution. Here's how to do it.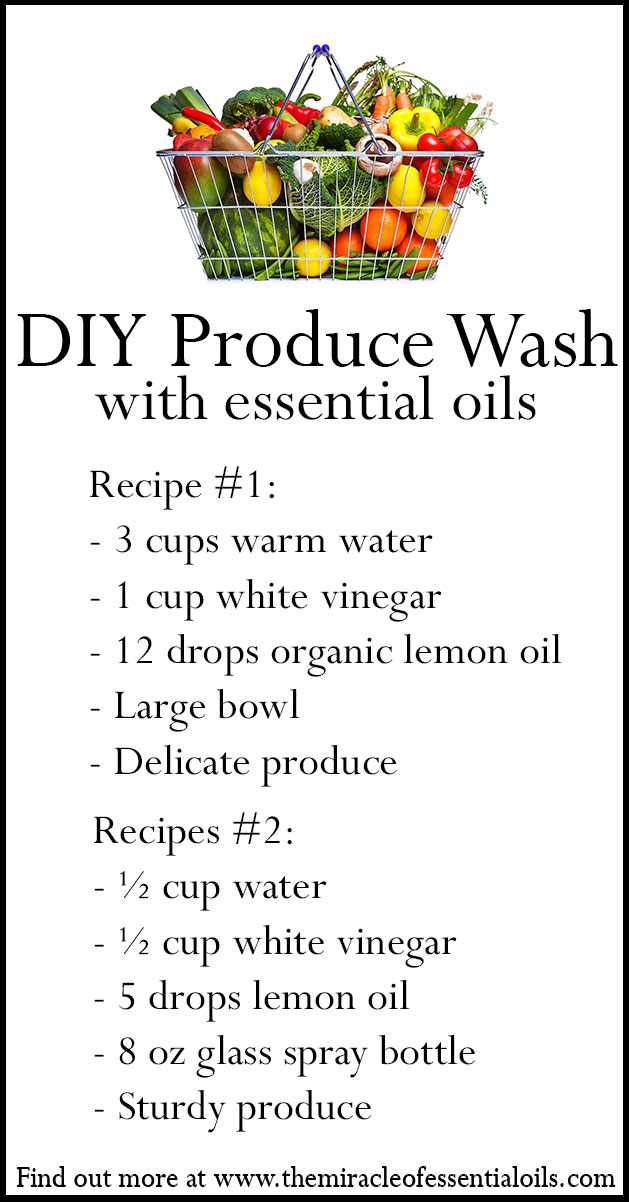 Recipe #1:
What you Need
Method
Mix up the warm water, vinegar and lemon oil in the large bowl.
Now add the produce and let it soak for a minute or two. You can turn the produce in the middle to let the solution reach all parts.
When the time is up, place the produce to dry on a large clean kitchen towel or start eating right away!
Recipe #2:
This is for sturdy produce that won't easily break apart or bruise.
What you Need
Method
Mix up the ingredients and pour it into a large amber glass spray bottle.
To use, spray on sturdy produce then let it sit for a minute or two.
Rinse well then wipe with a clean kitchen cloth to dry or, munch away!

What's your way of cleaning produce? Do you just rinse in the sink and munch away? Or fill the sink with water-vinegar solution and soak it?