Want to make your own cheap and fun DIY essential oil reed diffuser? Use this cool recipe!
If you've got essential oils but don't have a diffuser (yet!), then making a DIY essential oil reed diffuser can help you enjoy the beautiful aromas in a cheap and fun way!
Making your own DIY essential oil reed diffuser is incredibly easy. All you need to stock up on is some reed diffuser sticks or rattan reeds, a carrier oil, your essential oils and a cute container. I'd suggest getting a container with a cork so you can quickly drill a hole for the reeds, or even better, just buy reeds and a container they come with online at Amazon. I've linked where to get it down below.
Essential Oil Blends for Reed Diffusers
Here are some nice essential oil blends for reed diffusers:
How to Make a DIY Essential Oil Reed Diffuser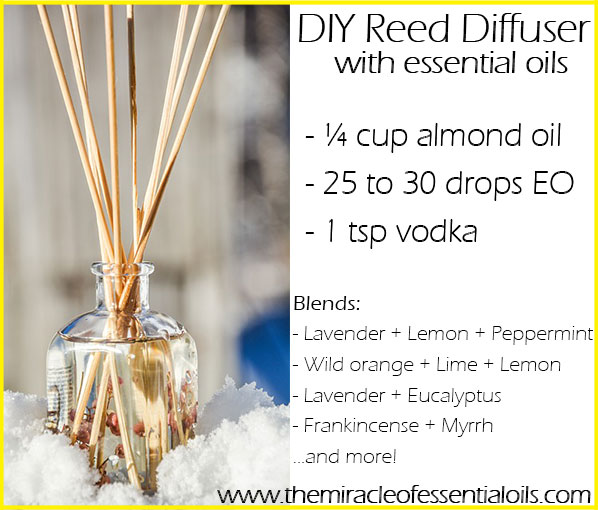 What you need
Directions
Get your container and pour in the carrier oil with a small funnel.
Now carefully add your essential oils of choice.
Stir the mixture with a reed.
Place all the reeds inside the container.
Your DIY reed diffuser is ready!
Once your reeds become saturated or the diffuser loses its scent, then it's time to replace your rattan reeds! Buy a pack of 50 rattan reeds to replace once necessary.
Caution & Tips
Keep away from children and pets. If you have kids or pets around, I'd suggest not using a DIY essential oil reed diffuser or commercial reed diffusers at all. Accidents can cause fatal chemical burns that no one would wish on their pets or children. High quality cold-air diffusers are MUCH safer. So please invest in one or two for your home. It's better to be safe than sorry.
If you don't want to buy one, then simply get a container with a cork then drill a hole for your reeds. That way, the essential oil vapors won't easily escape and the scent will last longer.
This gives a really light scent compared to essential oil diffusers. If you're looking for a subtle scent for a small space, then you can make this DIY essential oil reed diffuser. Otherwise, get your hands on a high quality cold air diffuser like this one.
Rattan reeds are your best bet for a long lasting scent. You can get them online at Amazon. Some people use bamboo skewers but they don't work as well as rattan reeds.
Instead of sweet almond oil, you can use safflower oil. Generally use light oils so the essential oil can travel up the reeds quicker. If you use thick or semi thick oils like olive oil, your reed diffuser might not work.