You must try out this gorgeous DIY essential oil roll on perfume recipe!
DIY Essential Oil Roll-On Perfume
More and more of us are making our own DIY essential oil perfume recipes. Roll on perfumes or sprays – it truly depends on your preference really! When it comes to roll on perfumes, you can get a very concentrated, deliberate application. With sprays, the scent is offset and applies lighter.
As roller bottle perfumes have to be applied directly on skin or clothing, they tend to last longer and mature more beautifully. As for spray perfumes, a good portion is dispersed into the air and they just don't last as long since they are mostly alcohol based. Alcohol evaporates much more quickly compared to heavy oils.
Personally I loved perfume sprays when I was younger. Now that I'm an adult, I tend to prefer roll-on perfumes!
In this article, I want to share a gorgeous recipe for a DIY essential oil roll-on perfume! I know you'll love it!
How to Make DIY Essential Oil Roll-On Perfume
Let's start with this strong, sensual citrus roll-on perfume that lasts really long.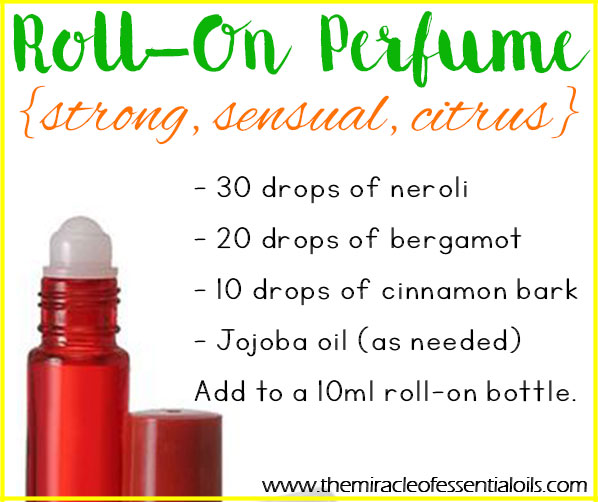 What you'll need:
Glass bowl for mixing
Syringe for transfer
10 ml roller bottle
30 drops of neroli
20 drops of bergamot
10 drops of cinnamon bark
Jojoba oil (as needed)
Directions:
First drop in all the essential oils in your glass bowl. Mix them thoroughly using a tooth pick.
Now using a sterile syringe, transfer the essential oil mix into the roller bottle.
Top up with jojoba oil.
Place the roller fitting onto the bottle.
Screw on the lid and shake to get everything well mixed up.
Allow the roll-on perfume to mature for 3 – 5 days before use.
To use, apply on your wrists, neck and back of the ears. You can also apply it on other pulse points.