Want a natural room spray without the added chemicals? Then try this DIY essential oil room spray! It uses minimal ingredients and works like a charm!
Bust stale air and freshen up a musty room using this DIY essential oil room spray! There are other benefits of using a room spray other than scenting up a room. They include:
Clearing the mind
Helping increase focus
Repelling bugs
Beating depression
Killing germs
Hydrating the room
Relieve stress
Promote sleep and relaxation
And more
If you ever learn that you can make your own DIY essential oil room spray, you'll never go back to store-bought air fresheners ever again! Below is a simple recipe that you can follow to the dot and have your own room spray in a couple of seconds!
DIY Essential Oil Room Spray Recipe
Before we look at the recipe, here are 7 amazing essential oil blends for room spray:
1. Refreshing Room Spray
2. Orange Spice Room Spray
5 drops orange oil (where to get it)
3 drops cinnamon oil
2 drops clove oil
3. Ready for Bed Room Spray
4. Focus Room Spray
5. Stale Air Room Spray
6. Stress Busting Room Spray
7. Cleansing Room Spray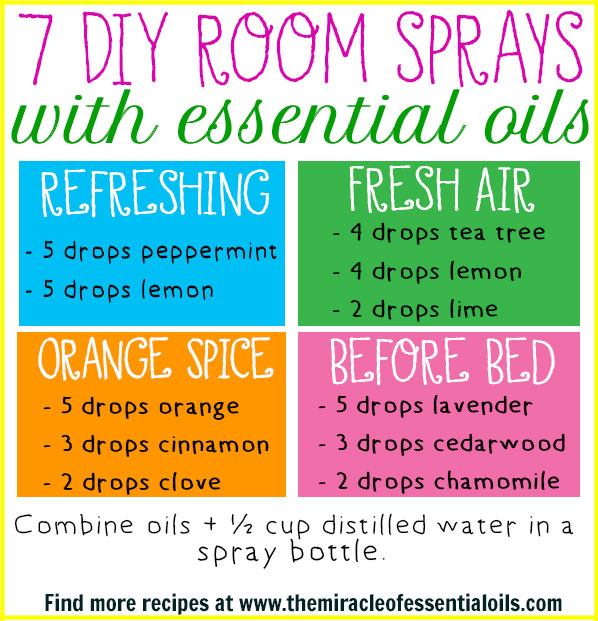 What you need
½ cup distilled water
10 drops essential oil (or essential oil blend of choice)
4 oz amber glass spray bottle
Method
Add the distilled water to the amber glass spray bottle.
Then add the essential oils drop by drop.
Cap the bottle and shake very well.
It's ready!
Spray as many times as needed around any space to freshen the air.