Take on this fun project to freshen up your rooms and closets with DIY essential oil sachets!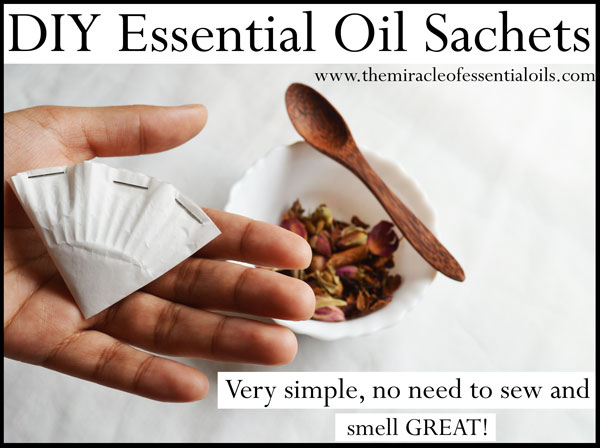 Why Do You Need Essential Oil Sachets?
Have you ever seen those cute little sachets that some like to hang by their bedside or behind doors? Those cute little bags contain dry herbs, spices and other natural essences that slowly release their aroma into the air.
By adding essential oils to these aroma sachets, you get a wide variety of benefits including an incredibly powerful natural aroma, natural deodorizing properties, natural insect repelling properties, natural mood lifting properties and more!
Essential oil sachets are a great way to freshen up any room! They can also be used in linen cupboards to keep your linen smelling lovely.
There are many ways to use essential oil sachets such as:
Keeping your closets fresh
A natural insect repellent for clothes and more
A natural pest repellent for books and photo albums
Acts as a natural air freshener
Use as a car freshener
Keep near your bed side for relaxation and peaceful sleep
Use it when studying for better memory and retention
Gift to your friends and family
Make Essential Oil Using Natural Ingredients
In this recipe, we'll be using completely natural ingredients that work just as well as conventional products, if not better!
Here's how each of the ingredients we'll be using help:
» Herbs – Dry herbs such as rosemary, mint, thyme and others emit soft aromas that can last long. They also help to keep pests like silverfish, earwigs, waterbugs and spiders away.
» Essential oils – Essential oils are highly aromatic compounds that are volatile and give off strong, beautiful aromas when used. They are completely natural and plant-based!
» Spices – We can use many spices like cinnamon, nutmeg, cloves, star anise and more! Spices are aromatic and also act as an absorbent for the essential oils.
How to Make a Homemade Essential Oil Sachet
What you need:
Method:
In a small non-reactive bowl, mix all the dry herbs and spices.
Now drop in the essential oils of choice and mix thoroughly with a spoon.
Divide into 8 equal portions and stuff into your cloth bags/coffee filters. If using coffee filters, fold them up to create 'pouches' then pour in your ingredients. Using a stapler, staple the open ends to close them.
Your essential oil sachets are now ready for use! 
Tips
Be sure to use a breathable cloth bag made of material such as cotton or linen so that the aromas can easily get into the air. Coffee filters work great!
Replace the contents of your bag every 2 – 3 months
You can sew your own cloth bags, or crochet/knit your own!