Get the stink out of your shoes by making this diy essential oil shoe spray using simple ingredients!
DIY Essential Oil Shoe Spray
Shoes can stink! Especially sneakers and gym shoes. That's because feet sweat a lot compared to the rest of your body and when this sweat mingles with bacteria, it produces bad odor.
Many people turn to store-bought fragrances to get rid of the awful smell. Some spray their deodorant, some use body spray, others use cologne or perfume. But instead of using commercial shoe sprays or whatever chemical-filled fragrance to improve your shoes' smell, why not make a safe all natural shoe spray? You can do this with Nature's essential oils! Essential oils are highly concentrated liquid extracts and most of them have strong pleasant scents enriched with powerful aroma therapeutic properties.
Essential oils don't just smell good! They also have strong antibacterial, antimicrobial and antifungal properties that fight off germs, bacteria and fungi. If you suffer from athlete's foot or nail funguses, essential oils will help you treat them!
Some of the essential oils you can use in your DIY essential oil shoe spray include:
Peppermint essential oil
Tea tree oil
Lavender essential oil
Lemon essential oil
Sweet orange essential oil
Ylang ylang oil
How to Make DIY Essential Oil Shoe Spray at Home
The essential oil blend below is a unisex scent but if you're a girl and you'd like something nice and feminine, use 20 drops geranium oil instead of lemon oil. It has an amazing scent that's not too flowery yet feminine and beautiful! You can also use ylang ylang oil! This essential oil is POWERFUL I tell you! It definitely has a looong lasting scent!
What you'll need:
4 oz amber spray bottle
½ cup rubbing alcohol
Small funnel
20 drops tea tree oil
20 drops lavender oil
20 drops lemon oil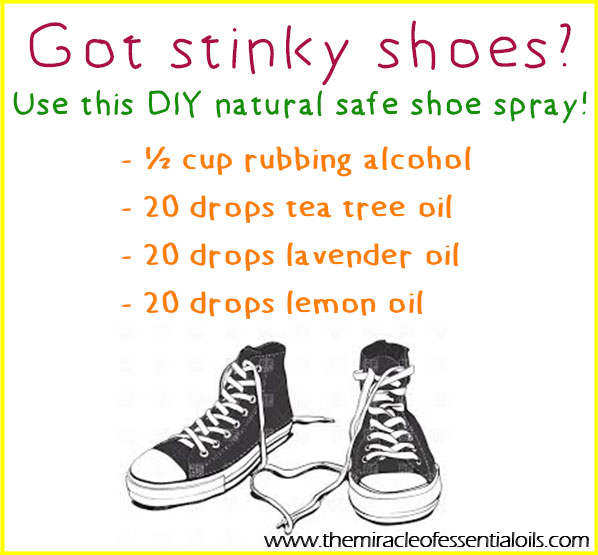 Directions:
Open your spray bottle and use the funnel to transfer ½ cup of rubbing alcohol into the bottle. It doesn't matter if you use 70% rubbing alcohol or whatever. You could also use vodka. The purpose of alcohol is to capture the scents of the essential oils properly. If you use water, you won't smell the essential oils much. Alcohol also disinfects and kills germs in your shoes.
Now carefully add 20 drops each of tea tree, lavender and lemon oil.
Close the bottle and shake well to combine.
Your DIY essential oil shoe spray is ready!
Remove the shoe soles then spray the heck out of the stinky shoes especially if they're gym shoes. Let them aerate out a bit then you can wear them.

What do you do for stinky shoes? Do you have any other remedies for getting rid of the smell? Share with us in the comments below!