Ever heard of making DIY essential oil shower melts? They are so amazing! They'll turn your groggy mornings around in no time!
Shower melts are simply cubes/disks that you toss on the shower floor near the drain. As the steam and pressure of the shower water hits the shower melt, it melts. And as it's melting, it releases all its refreshing scents that will awaken your senses and get you ready for the day!
Essential oil shower melts don't just wake you up in the morning – they also have other benefits including:
Open up clogged sinuses
Help you breathe easier
Cool the body
Rejuvenate skin
Uplift dull moods
Clear a messy mind
Boost memory
Refresh your system
And more!
Below is a thorough recipe to guide you on how to make DIY essential oil shower melts right at home:
DIY Essential Oil Shower Melts Recipe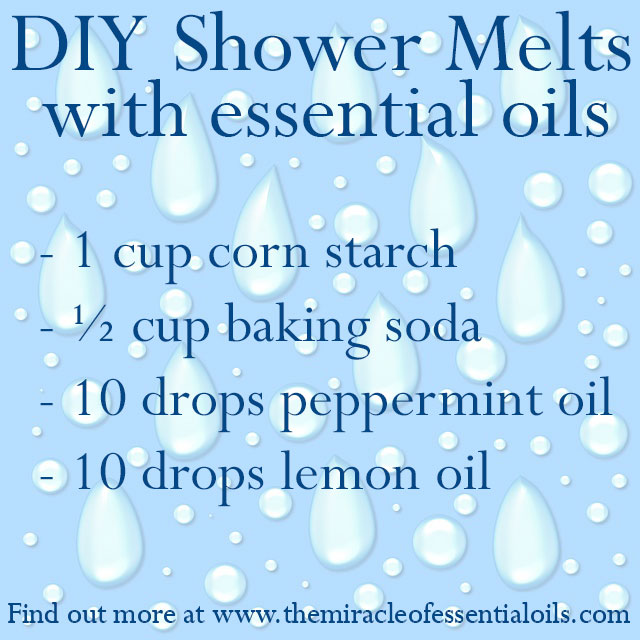 What you need
1 cup corn starch
½ cup baking soda
10 drops peppermint oil
10 drops lemon oil
Large bowl & whisk
Silicone cube tray
Spray bottle with water
Method
In a large bowl, dump in and whisk the corn starch, baking soda, lemon oil and peppermint oil.
Get the spray bottle and start spritzing water into the bowl. While spritzing, use your hand to mix and gather the powder into little molds that form a shape. Make sure not to add a lot of water: just enough to get the ingredients to form a shape without falling apart.
Now stuff the little molds you've gathered into a silicone cube tray and leave it to set for an hour or two in the refrigerator.
Once set, carefully remove from the silicone tray and store in a large mason jar.
To use, toss one on the shower floor near the drain. The heat and pressure of the shower will melt the shower melt, releasing the refreshing scent of peppermint and lemon into the air.
Other Essential Oils to Use for Shower Melts
Sweet orange – beat depression
Grapefruit – for energy
Lavender – promoting peace and calm
Rosemary – boosting memory
Vetiver – refreshing the mind
Cedarwood – increasing oxygenation to the brain