Looking for a natural way to care for your locs? Try this cheap, easy & effective DIY essential oil spray for dreads!
Caring for dreads isn't as hard as you may think. One way to keep your locs smelling clean & fresh is by using this DIY essential oil spray for dreads! Its purpose is to keep your dreads clean, smelling good, free from lice/germs, hydrated and feeling fresh!
Benefits of Each Ingredient
Check out the ingredients we're going to need:
Tea tree oil – This essential oil is the most powerful disinfectant of all essential oils. It banishes dandruff, wards off lice, kills germs and keeps your scalp clean and fresh.
Lavender oil – Lavender is the most versatile oil. It soothes the scalp, reduces inflammation & relieves irritation of any sort. It also has a pleasant and subtle scent that is relaxing.
Rosemary oil – Just like tea tree oil, rosemary oil is also good for fighting off lice, germs & dandruff. However, its specialty lies in its awesome hair growth boosting properties! It stimulates hair follicles and promotes longer, stronger and thicker hair.
Peppermint oil – Peppermint is so refreshing for your dreads! It has a nice tingling effect on the scalp that soothes skin and promotes growth of new hairs. Adding peppermint oil to this DIY essential oil spray for dreads also improves the scent of the spray. Without peppermint, your spray may smell more herbaceous.
Aloe vera gel – It's a light moisturizer for your dreads without leaving residue like oil/wax based moisturizers. It's also an emulsifier for the essential oils.
DIY Essential Oil Spray for Dreads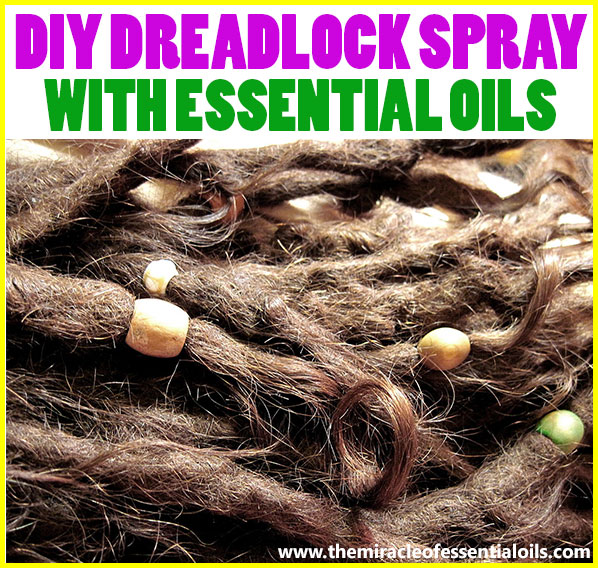 What you need
Directions
Add 1 tsp of aloe vera gel to your spray bottle.
Next, carefully add the drops of each essential oil.
Now swirl the bottle gently to mix the essential oils in the aloe vera gel.
Use a funnel to finally top up with distilled water.
Close the bottle and shake well to create an emulsion.
And what do you know? Your essential oil dreadlock spray is ready!
To use, lightly mist on your dreads before styling. Do not spray a lot because you don't want to make your dreads damp/dripping – that'll only encourage mold. Just give your dreads a light mist.