Ready to make your own essential oil sunscreen? Just follow this easy but effective recipe that's safe to use for you and your kids!
Sunscreen is filled with unnecessary chemicals and toxins in the form of preservatives and fragrance. Why would you want to be slathering this on your skin? According to Dr. Mercola, conventional sunscreens do not protect the skin against melanoma (or skin cancer) because melanoma mortality decreases after UVB exposure.
So is sunscreen really necessary? Yes, it is but it would be better to protect yourself from harsh sunlight by covering up as much as possible with hats, umbrellas and clothing. If you do end up going in the strong sun, you do need sunscreen.
If you're someone who easily burns, then you might want to invest in a natural sunscreen like this one. But if you're someone like me who don't easily burn, try out this essential oil sunscreen recipe – it works!
Why Add Essential Oils to Sunscreen?
Essential oils such as carrot seed, myrrh and lavender have sun shielding properties and help prevent sun burns. They have incredibly high SPF, like carrot seed for example has an SPF of around 30 – 40! The oils are also healing and protect skin from getting sun damaged. Essential oils also have other benefits like moisturizing skin, promoting cell regeneration, fighting off germs and microbes, and giving skin a nice scent!
SPF of Each Ingredient
The SPF of the ingredients is got from the references below (1), (2).
Red raspberry seed oil – SPF 28-50
Shea butter – SPF 6
Coconut oil – SPF 8
Zinc oxide – SPF 20+
Carrot seed oil – SPF 30-40
Lavender oil – SPF 6
Lemongrass oil – SPF 6.3
DIY Essential Oil Sunscreen Recipe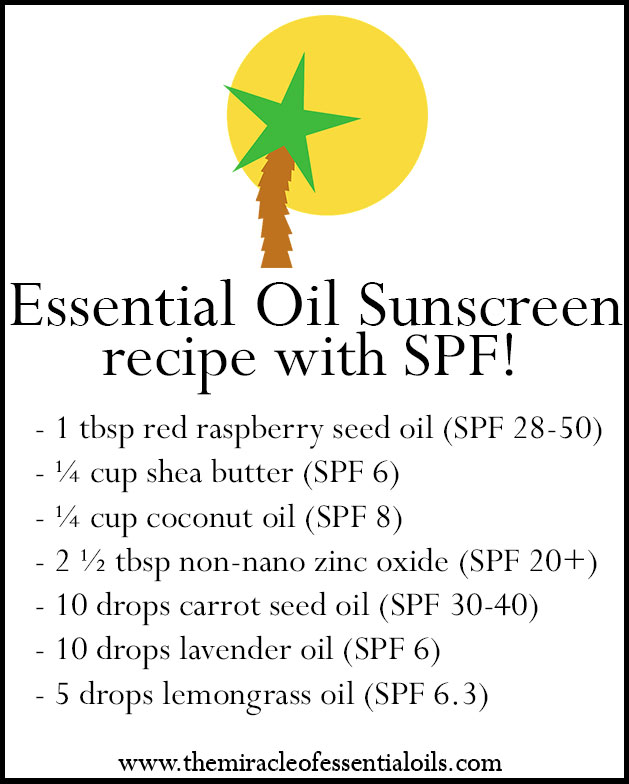 What you need
Method
Add the shea butter and coconut oil to a double boiler. Heat over a medium low flame until melted to liquid form.
Once melted, remove from heat and let it cool off for a couple of minutes then wear the mask and carefully add in the zinc oxide and whisk it well to combine.
When it's well combined, add the rosehip oil and essential oils and whisk again till you get a creamy mixture.
Your essential oil sunscreen is ready! Now all you have to do is store it in a 4 oz clean container or squeezable tubes.
Apply liberally on skin before heading out in the sun.
References
(1) https://www.researchgate.net/publication/215523935_Characteristics_of_raspberry_Rubus_idaeus_L_seed_oil
(2) http://www.ncbi.nlm.nih.gov/pmc/articles/PMC3140123/