If you're into DIYing homemade cleaners, you must have heard of how coke works really well in cleaning toilets. It's true it does work! But what's cheaper and smells amazingly clean & fresh? This DIY essential oil toiler bowl cleaner!
Toilet bowls can be icky – no need to go further explaining this – and they need deep cleaning. But conventional toilet cleaners smell really weird and trigger allergies in some people like me. When you make your own toiler cleaner with essential oils, there will be absolutely no toxic or hidden ingredients and NO weird chemical smell!
Your toilet and whole bathroom will smell clean, fresh and lemony!
Let's take a look at each of the ingredients we'll be using and how they work:
Borax – This powerful agent has more cleaning power than baking soda, that's why I used it in this recipe. It clings to the toilet bowl and dissolves stains and spots very fast. Borax also neutralizes bad odor.
Liquid castile soap – Castile soap is a plant based soap that's all natural. I chose Peppermint scented because it smells so refreshing and combined with lemon oil, it produces a really good citrus-mint scent.
Lemon oil – The no.1 essential oil for green cleaning, lemon oil has a fresh citrus scent that's clean. It masks any bad odors and leaves your toilet smelling very pleasant.
Now that we've looked at the purpose of each ingredient, let's move onto the recipe!
DIY Essential Oil Toilet Bowl Cleaner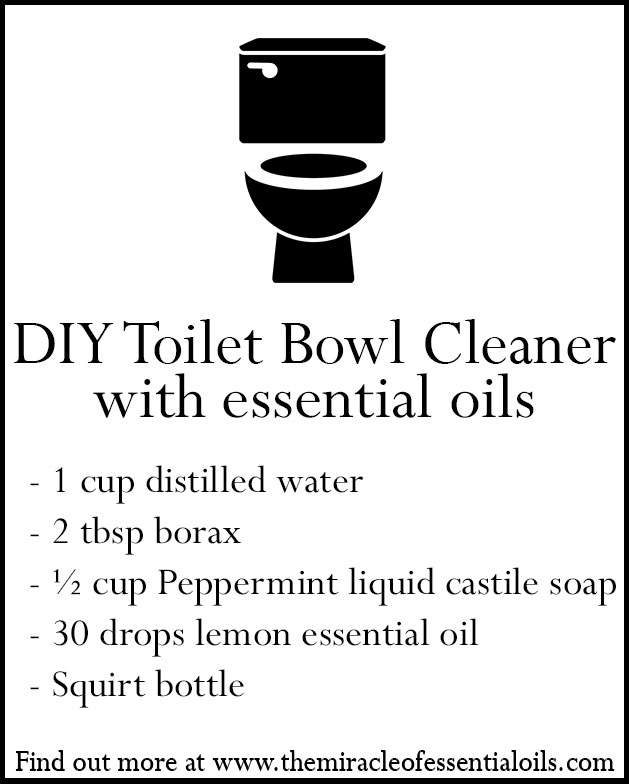 What you Need
Method
Heat the distilled water till very hot. Then pour it into the Pyrex measuring cup.
Now add the borax and stir well till you get a cloudy solution.
Now add the peppermint-scented liquid castile soap.
Finally add in the drops of lemon oil.
Mix well then pour your cleaning solution into the squirt bottle.
Your DIY essential oil toiler bowl cleaner is ready! Shake well before each use.
To use, squirt the cleaner around the rim of the toilet bowl. Let it sit for 15 minutes. Then scrub with the toilet brush, flush the toilet and rinse the brush in hot water.
Tip: For extra cleaning, keep a spray bottle of hydrogen peroxide or white vinegar with you while cleaning the toiler. Squirt it on the toilet bowl and leave it for 7 minutes before flushing.

Are you ready to advance to this next level of green cleaning?! Will you try this DIY essential oil toiler bowl cleaner recipe?