If you are looking for a fail-proof homemade ear drops, then this easy, safe yet potent hydrosol ear drops recipe is the only one you'll ever need!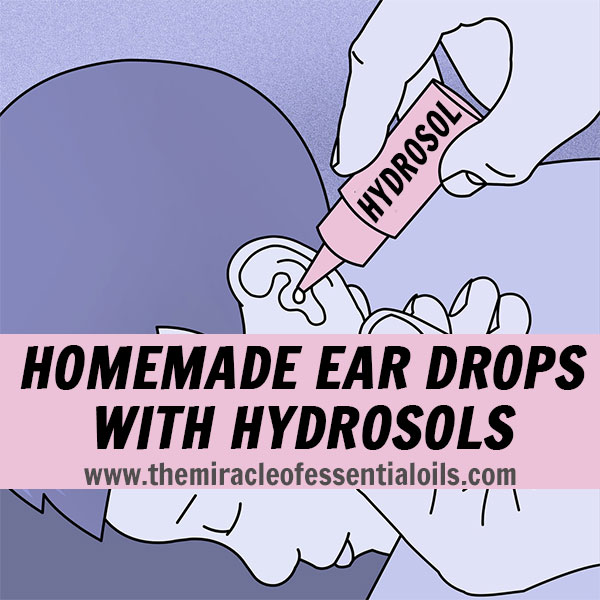 What are Hydrosols?
What looks like water, feels like water, but smells absolutely heavenly and is bustling with healing properties? Hydrosols, of course!
Hydrosols are simply floral waters, which are a by-product of the essential oil steam distillation process.
As you may already know, essential oils are nature's most precious and therapeutic healing oils, but are simply too concentrated and cannot be used undiluted. But hydrosols, on the other hand, have all the goodness of essential oils but can be used undiluted, are suitable for babies and sensitive skin and are much more milder and safer.
Some of the most popular hydrosols include:
Lavender hydrosol
Rose hydrosol
Rosemary hydrosol
Neroli hydrosol
Tea tree hydrosol
Hydrosols are the next big thing in aromatherapy. They have numerous calming and soothing health benefits. Just take a look at some of their benefits:
Rich in antibacterial, antimicrobial and antiseptic properties
Disinfectant properties
Reduce swelling, inflammation and pain
One of the best ways to use hydrosols is in homemade ear drops.
Who Needs Homemade Ear Drops?
Everyone has been prescribed ear drops at least once in their life time. Some of us may have had chronic ear infections as babies. You may have got a painful ear infection during a stint of flu/cold or allergies. No one can deny how excruciatingly painful earaches can be.
Although oral antibiotics may be prescribed for severe cases of ear infections, most ear pain is benign and can be treated at home.
If you have kids that frequently get ear infections, I cannot recommend this simple, yet effective homemade ear drops recipe!
Note: If you have severe ear pain, pus oozing out of the ear or fever along with ear pain, always visit your doctor for proper diagnosis and treatment.
These homemade ear drops are safe and non-toxic. They can be used for:
Ear pain relief
Opening blocked ears
Loosening up clogged or hard and dry ear wax
Swimmer's ear
Ear pain due to colds or allergies
Homemade Ear Drops for Swimmer's Ear
You'll be surprised how easy this recipe is. But you'll be even more delighted at how WELL it works!
What you need:
Directions:
Measure out the ingredients and pour them into a clean cup or glass bowl.
Now mix to get the ingredients thoroughly combined.
Transfer into a dropper bottle. You can also use a recycled ear drops bottle.
Your homemade ear drops are now ready!
Tips When Using Homemade Ear Drops
Never pour cold ear drops into the ear. If you are storing these ear drops in the refrigerator, make sure it comes to room temperature first before using. Pouring very cold drops in the ear may cause vertigo in some people.
Always use sterile containers and tools for making and storing any homemade product.
This ear drop solution will last for 6 – 12 months. Keep in a cool dry place.
If you notice any signs of degradation such as molding or coagulation, toss it out and make a fresh batch when needed.