Looking for an all-natural deodorant spray for the summer? Check this DIY hydrosol deodorant spray recipe: it works, uses only 4 ingredients, causes no irritation and lasts long!
Deodorant sprays are so easy to make and they are extremely refreshing and cooling during summer. They usually contain distilled water as the base ingredients but in this recipe, we shall be using a hydrosol.
Why Use Hydrosols?
First off, what are hydrosols? They are pure plant extracts extracted from steam distillation of plant material. Hydrosols are also known as distillates, floral waters and hydrolats. They look just like water, only enriched with different nutrients and chemicals. They even have a different pH from water and other liquid substances.
Hydrosols are special because they are just like essential oils but much more gentle and safe to use. You can use them on pets, babies and even take them internally, provided they're organic of course.
If you want to avoid essential oils on your underarms, then you're more than welcome to use hydrosols – they are so gentle!
Which Hydrosol Should I Use for Deodorant?
Now you know what hydrosols are, you're probably wondering which hydrosols you should use for your deodorant spray. Here's a list of the common hydrosols, their scent profiles and what each are good for:
Other Hydrosols You Can Use
If you're interested in hydrosols, check out this amazing book –  Hydrosols: The Next Aromatherapy by Suzanne Catty. I use it as a reference and it's very handy for anyone who loves hydrosols!
DIY Hydrosol Deodorant Spray Recipe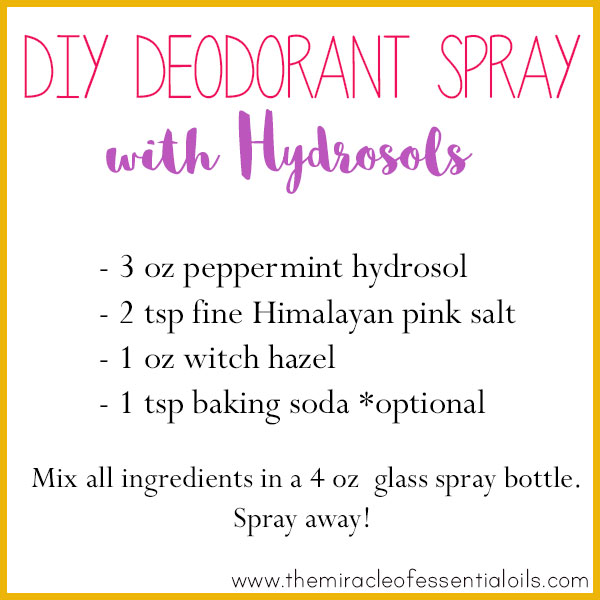 What you need
Method
Heat the hydrosol of choice until warm.
Pour it into the Pyrex measuring cup then dissolve the Himalayan sea salt, baking soda and witch hazel in it.
Allow it to cool off completely.
Carefully pour it into your cobalt blue spray bottle.
Spray onto clean and dry underarms as needed. Twice a day is perfect, in the morning before work/school, then in the evening.