Hydrosols act as refreshing hair rinses all on their own. But if you want to a special recipe for silky soft and conditioned locks, I've got one right here! Below is a DIY hydrosol hair rinse recipe that I love!
Also called distillates or floral waters, hydrosols are the by-product of essential oil steam distillation. They contain a very tiny amount of essential oils, which makes them therapeutic and medicinal. The hydrosol also has a mild to strong fragrance of the plant material it is extracted from.
Hair teas are more popular options for hair rinses but hydrosols are a purer and more fragrant option. Check out some of the benefits of hydrosols for hair below:
Benefits of Hydrosols for Hair
» Hydrates hair. Hydrosols are natural humectants. They gather moisture from the surrounding and seal it into the hair strands. This leaves hair moisturized and healthy.
» Keeps hair conditioned. When using hydrosols on hair, they naturally condition it which makes hair silky and soft for easy detangling.
» Soothes the scalp. For itchy scalps and dandruff, hydrosols soothe the scalp, kill off bacteria and relieve itchiness.
» Promotes hair growth. Some hydrosols are stimulants which stimulate blood flow to the scalp. This nourishes and invigorates the hair follicles, which promotes hair growth.
Which Hydrosols Should I Use?
Below is a list of hair problems and which hydrosols to use:
For moisturizing and easy de-tangling, choose the following hydrosols:
For oily hair, use:
For hair growth:
For dandruff:
DIY Hydrosol Hair Rinse for Silky Hair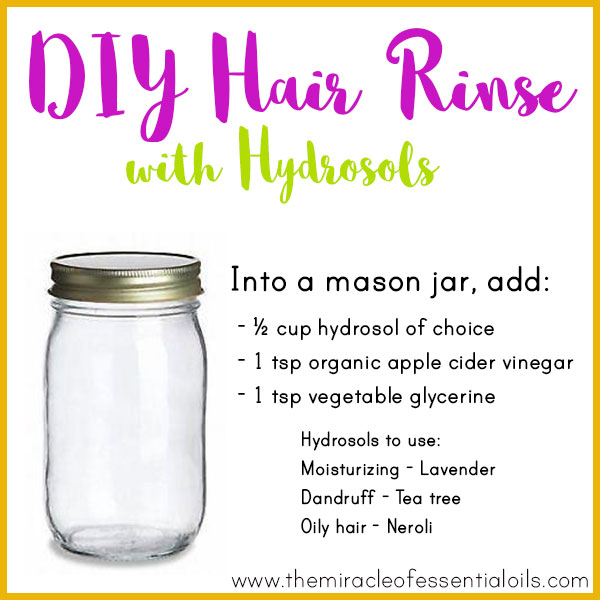 What you need
Directions
In a Pyrex measuring cup, pour in the hydrosol, followed by the apple cider vinegar.
Then add the aloe vera gel.
Stir well to make a well combined mixture.
Your hair rinse is ready!
After shampooing or washing your hair, use it as your final hair rinse.
Pour it slowly along the length of your hair.

What do you think? Are you ready to make and benefit from a DIY hydrosol hair rinse?