One of the most valuable ways to use hydrosols are for mouthwash. In this post, I share a simple but effective recipe on how to make your own DIY hydrosol mouthwash!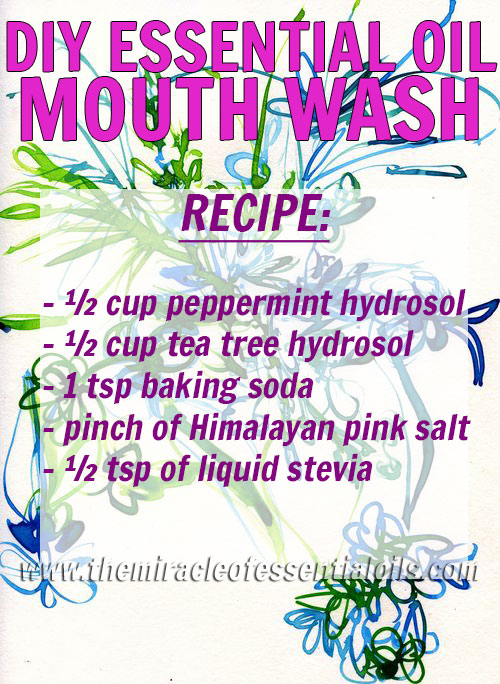 Essential oil mouthwashes are becoming incredibly popular! That's because of their powerful antibacterial and bad breath banishing properties. But if you have kids or you've afraid of ingesting the essential oils, then don't worry! There's a simpler and much more safer way of using them to make mouthwashes – enter hydrosols!
Hydrosols are obtained at the same time essential oils are extracted. When the essential oil goes through one tube into the collection chamber. The hydrosol goes through another tube. And so two products are derived from essential oil extraction: the hydrosol and the essential oil.
Just like essential oils, hydrosols also have bad breath fighting properties, antibacterial properties and anti-inflammatory effects as well.
You can use hydrosols straight as a mouthwash and it will work in fighting bad breath. But for a stronger and more effective mouthwash, here's a nice recipe I like to use:
What you need
½ cup peppermint hydrosol
½ cup tea tree hydrosol
1 tsp baking soda
A pinch of Himalayan pink salt
Enough drops of liquid stevia
Pyrex measuring cup
8 oz amber glass bottle with cork
Why these Ingredients?
» Peppermint hydrosol – With its refreshing minty scent, peppermint hydrosol neutralized bad mouth odor and freshens breath. It also fights bacteria and strengthens the gums.
» Tea tree hydrosol – Kills mouth bacteria and other oral pathogens. Purifies the mouth and gives it a neutral pH that is hard for bacteria to thrive in.
» Baking soda – Loosens tartar and plaque from teeth. Cleanses the mouth and masks bad breath.
» Himalayan pink salt – Strengthens teeth and gums, prevents tooth decays, kills cavity-causing germs.
» Liquid stevia – This improves the salty taste of the mouthwash. It makes it easier for kids to use.
Method
Mix up the tea tree hydrosol and peppermint hydrosol together. Now warm the mixture until it is able to dissolve the baking soda and pink salt.
In a Pyrex measuring cup, pour in the warm hydrosol mixture. Stir in the baking soda and pink salt until dissolved.
Now add enough drops of liquid stevia, according to how sweet you want your mouthwash to be. I recommend about 7 – 10 drops. Stir well.
Your DIY hydrosol mouthwash is ready! Pour it into an amber glass bottle with a cork. Store in your bathroom cabinet.
Use in place of regular mouthwash.
What do you think? Are you ready to make your own DIY hydrosol mouthwash?