Plagued by allergies, frequent colds or painful sinuses? Consider this very effective diy hydrosol nasal drops recipe that is therapeutic, healing and disinfecting. It is gentle enough to use in your delicate membranes.
Hydrosols Nasal Drops?
Did you know that you can make your own nose drops at home?
Those little bottles of nasal drops that are prescribed by your doctors are nothing but saline solutions, which may even have toxic parabens added in order to prolong the shelf life!
Aside from the ingredients factor, conventional nose drops are also over-priced for their size!
You can easily make your own saline solution at home to use as nose drops. In fact, you can use organic, superior quality, healing ingredients to make nasal drops that pack a punch!
Hydrosols are healing waters derived from distilling flowers, leaves or other plant materials. If essential oils are the soul of a plant, hydrosols are the life force of the plant. Made of pure sterile water, hydrosols contain beautiful aromatic compounds and versatile medicinal values.
How to Hydrosols Help the Nose?
Hydrosols are a perfect choice for making homemade nasal drops. Usually boiled and cooled or distilled water is used for making a saline solution. But hydrosols are already distilled and they are very pure, sterile solutions.
Some of the therapeutic properties in hydrosols which can help ease nose trouble include:
Anti-inflammatory properties: Nasal membranes are often inflamed, irritated and swollen. Hydrosols have potent anti-inflammatory properties that can help reduce inflammation, soothe irritation and reduce swelling.
Relieves sinus: Sinuses happen with the sinus cavities get clogged with fluid. Hydrosols have draining properties which help promote the flow of sinus congestion via the throat and nostril.
Expectorant: Hydrosols such as hyssop are good expectorants that help to loosen up thick mucus that blocks the air ways.
Antibacterial, antiviral, antimicrobial: Hydrosols are rich in antibacterial, antiviral and antimicrobial properties that help to destroy harmful bacteria and viruses that cause nasal congestion.
Antihistamine: In cases of nasal congestion and irritation due to allergies, hydrosols can be of great help because they have anti-allergenic compounds that help boost the immune system and reduce allergies.
What Nasal Conditions Can Be Relieved By Hydrosols?
Here are some of the nasal ailments that can be healed with hydrosol nose drops:
Dust, pollen and other allergies
Sinus congestion
Colds and runny nose
Difficulty breathing through the nose
Blocked nose
Itchiness
And others
Which Hydrosols are Good for the Nose?
Some of the most popular hydrosols that are good for the nose include: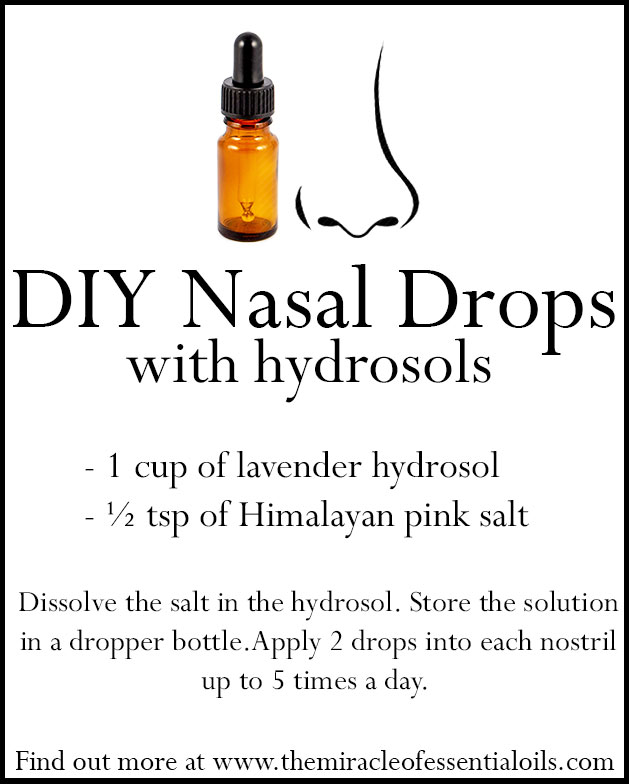 Homemade Hydrosol Nasal Drops Recipe
Making homemade nasal drops is incredibly easy. After all, nasal drops are nothing but saline solutions that help clear the nasal passageways. Here is a very effective hydrosol nasal drops recipe:
What you need:
Method:
Get a clean glass bowl and pour in the hydrosol and Himalayan pink salt.
Now stir with a clean spoon until the salt is completely dissolved. This makes your saline solution.
Transfer the solution into a dropper bottle.
Apply 2 drops of the nasal solution into each nostril. You can apply this 5 times a day.
I love these nasal drops because they help me relieve any kind of nasal troubles I have, especially allergies and congestion. Along with facial steaming with essential oils, hydrosol nose drops help you get rid of any kind of nasal trouble within days, even hours!
Caution: Don't use for babies, children and pets!