Just take a look at what this easy DIY PMS Essential Oil Blend can do for you at that time of the month!
What is PMS?
You might not even know you're suffering from PMS, unless you paid close attention!
PMS stands for Premenstrual Syndrome. It refers to a range of symptoms a woman may experience just a few days towards her monthly cycle. These symptoms include:
Tender breasts
Bloating
Cramps
Nausea
Headaches
Food cravings
Mood swings
How Can Essential Oils Help PMS?
There's an essential oil for every PMS symptom, trust me! What essential oils can do is to remedy the signs and symptoms of PMS and help you have smooth, easy days.
Essential oils are healing extracts derived completely from plants. They have been used for many millennia. Today we have modern technology to extract even minute traces of essential oils. We also have much greater accessibility to thousands of essential oils.
DIY PMS Essential Oil Blend
While there are many essential oils to remedy PMS, this master blend combines 4 potent essential oils that work very well for most people. Here is the recipe:
What you need:
2 oz or ¼ cup of evening primrose oil
10 drops of clary sage oil
10 drops of lavender oil
5 drops of marjoram oil
5 drops of bergamot oil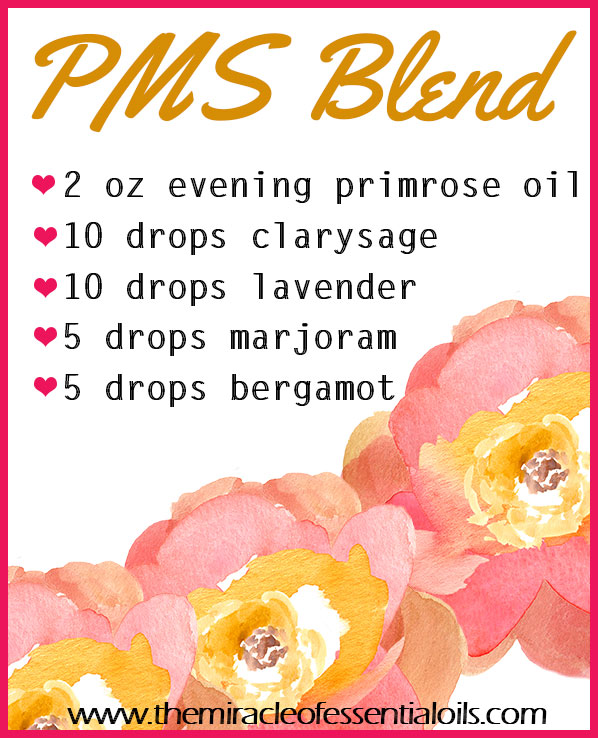 Directions:
Get a glass bottle slightly larger than 2 oz and carefully pour in all the oils that are needed.
Now tighten the lid and shake the bottle to mix up everything evenly.
Your DIY PMS essential oil blend is now ready for use. Yes, it's that simple!
How to Use Your Essential Oil Blend for PMS
There are literally so many creative ways to use this PMS essential oil blend! Here are my top three ways:
Diffuse 5 drops for up to an hour a day. Right before bed would be a great time
Apply the blend onto your neck, temples and base of the neck on the back of your head, where the brain stem is located.
Use as a massage oil by rubbing directly over your lower belly.
Put 20 drops of the oil into your nightly bath to calm and relax your body and mind

How do you use essential oils to manage PMS?