To nurture your hair into a silken mass of tresses, using natural remedies seems the most logical way to go.
You do not want to mess up with your hair growth cycle by using harsh parabens and other questionable ingredients!
Our go-to natural remedy for hair growth is using Nature's most powerful essential oils.
These precious liquids are high concentrated in powerful compounds that accelerate hair growth. You can make your own essential oil blend for hair growth at home.
Here are some of the best essential oils for hair growth:
4 Best Essential Oils for Hair Growth
Rosemary essential oil – Rosemary is incredibly stimulating for dull lifeless hair follicles. It increases blood circulation to the scalp and kickstarts hair growth.
Peppermint essential oil – Did you know that a study published in Toxicology Research showed that peppermint oil promotes hair growth? The study goes on to say that peppermint oil performed better than minoxidil, a hair growth product approved by the FDA. It is refreshing and invigorates the inactive hair follicles to start the action of producing hairs.
Cedarwood essential oil – Cedarwood is another hair growth essential oil you don't want to miss out on. Combined with rosemary, lavender and thyme essential oils, it helps regrow lost hair in alopecia areata patients!
Lavender essential oil – Lavender helps reduce stress-related hair growth like crazy! It is very calming and relaxing to the scalp. Lavender also makes your hair shiny and smell like flowers!
3 Best Carrier Oils for Hair Growth
Now that we have seen the best essential oils for hair growth, you must know the best carrier oils for hair growth. When using essential oils, you must dilute them with carrier oils without fail. Carrier oils are called so because they 'carry' essential oils since essential oils must not be used on their own. They are very potent and can cause chemical burns if used without dilution. The best carrier oils for hair growth are:
Jamaican black castor oil
Coconut oil
Sweet almond oil
How to Make a Stimulating Essential Oil Blend for Hair Growth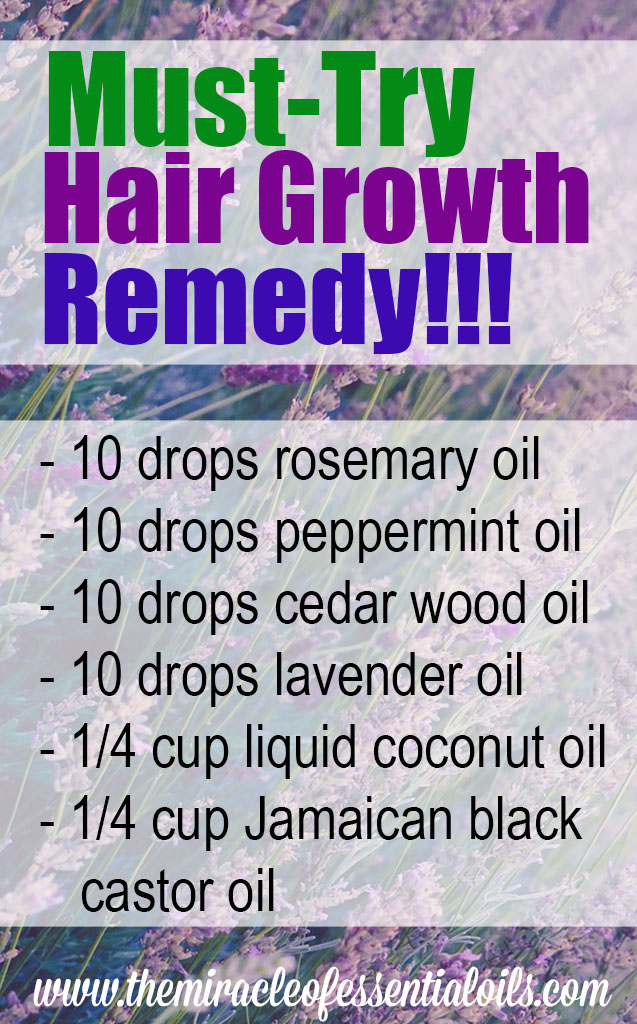 What you need
Directions
Into a sterilised container, such as a flip top bottle, or even oil bottle with a small opening, add 1/4 cup liquid coconut oil and 1/4 cup Jamaican black castor oil.
Now add 10 drops each of rosemary, peppermint, cedar wood and lavender essential oils.
Gently shake the container to mix the oils together.
Your stimulating hair oil blend is ready!
How to Use the Essential Oil Blend for Hair Growth
You can use this blend twice a week overnight. Here's how:
Before bed, section your hair into two then start massaging the oil blend on every area of your scalp.
Once you've covered all areas, pin your hair up and put on a shower cap.
Throw an old towel over your pillow and go get some beauty sleep!
The next morning when you wake up, wash your hair, shampooing twice to get rid of all the oils. Blow dry your hair and style as usual.
Continue this regimen twice a week without fail for improved hair growth! Soon, you'll start seeing lots of baby hairs growing and your hair will stop falling everywhere!