I don't know why the tiniest things like paper cuts and SPLINTERS hurt like crazy! But they do and it's such a pain to yank out the splinter! I still feel queasy whenever one of my family members comes up to me to try to squeeze out a splinter in their fingers. It can be tiny rose thorns, steel wire or wood. Sometimes I even have to use a safety pin to carefully try to dig around and remove the splinter without creating a wound. I know, ouch!
Beautymunsta has a Homemade Amish Salve Drawing Recipe that draws out almost anything out there on Planet Earth – thorns, wood splinters, glass splinters, warts, cystic acne, you name it!
But what if you've run out of that miracle salve and you don't have time to make one at short notice? What do you do? Let me tell you – use essential oils! Just a few drops applied and that pesky splinter will pop right out!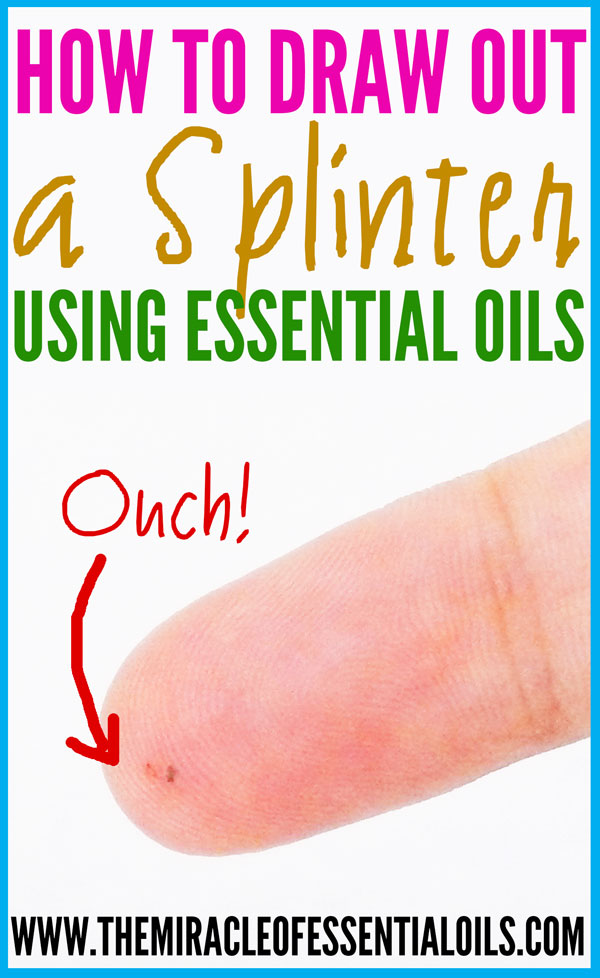 Using Essential Oils to Draw out a Splinter
It seems weird using essential oils to draw out a splinter but it sure works! Quite a number of essential oils have drawing properties that assist in driving out foreign objects from skin.
They also have astringent properties that remove oiliness and dry up & shrink skin, which helps the splinter come to the surface and pop out easily.
Essential oils also have antiseptic and antibacterial qualities that disinfect the area and prevent the splinter from getting infected. They also help draw out pus from the splinter.
Top 4 Essential Oils for Splinters
Lavender essential oil
Frankincense essential oil
Tea tree essential oil
Clove essential oil
Note: Clove essential oil is a 'hot' oil that can burn your skin if used undiluted. You may dilute one drop in ½ tsp of carrier oil then apply it on the splinter.
How to Draw Out a Splinter with Essential Oils
Wash the area gently in very warm water then dry it off with a soft towel.
Now add two drops of your essential oil for splinters (lavender, frankincense, etc) on a band-aid.
Stick the band-aid onto the splinter.
Wait after 2-3 hours then remove the band-aid and gently squeeze the splinter. You can use your fingers or a pair of tweezers.
You'll see the splinter coming off so easily you won't believe your eyes!
If you have a large splinter, apply the oil on the band-aid 3 times a day until it's soft enough to pop out.
Other Natural Remedies for Splinters
Hydrogen Peroxide. Pour some hydrogen peroxide in a cup and immerse your finger with the splinter in it for 4 minutes. This will soften up skin and enable the splinter to come out easily.
Castor Oil. Apply a little amount of castor oil on the splinter, cover with a band-aid or bandage and leave it overnight. The next morning, the splinter will come off as easy as anything.
Epsom salt bath. Throw two cups of Epsom salts into a very warm bath. Soak for 15-20 minutes with the splintered area in the water. The splinter should loosen up and fall right off.
Baking soda. Mix 1 tsp of baking soda with just enough water to form a non-drippy paste. Apply to the affected area. Leave it on for about 30-40 minutes and watch that splinter surface so you can easily remove it! It can pop out itself sometimes so you just have to be ready with your pair of tweezers!
Have you ever used essential oils to draw out a splinter? What other remedies have you used on a splinter with success? Please share below!