Not a usual hydrosol, elecampane hydrosol is very useful for treating respiratory ailments. That's not all though – discover more elecampane hydrosol benefits and recipes on how to use it below!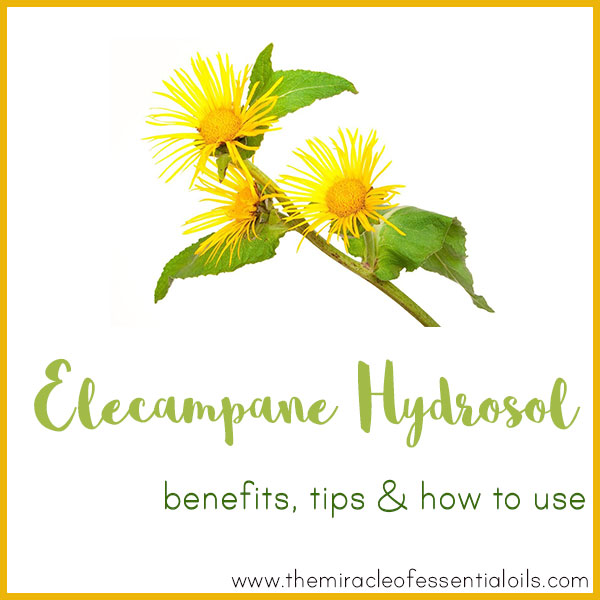 What is Elecampane Hydrosol?
Elecampane (Inula helenium L.) belongs to the same family as sunflowers and ragweed. It is native to southern and eastern Europe.
If you look at its botanical name, it contains the word helenium, which shows that it was named after Helen of Troy who carried the flowers with her when Paris abducted her from Sparta.
Elecampane hydrosol is extracted from the roots of the elecampane plant. It has a cool minty fragrance with a hint of spice and cherry and a whisper of a floral note. Its taste is also minty and medicinal, just like cough syrup, which is not surprising, since it is extremely good for respiratory issues.
Benefits of Elecampane Hydrosol
1. Good for the Respiratory System
Among the best hydrosols for respiratory conditions is elecampane. It has expectorant properties which is good for coughs, congestion, bronchitis, sinusitis and other respiratory problems. In the how to use section below, find some recipes with elecampane for respiratory troubles.
2. Relieves Nasal Congestion
Elecampane is a good choice for hydrosol nasal drops. It breaks up heavy mucus and enables you breathe easier. Check out how to make nasal drops with elecampane below.
3. Allergies
Elecampane hydrosol is also extremely good for relieving allergies. It can be used to soothe sinus flare-ups, itchy eyes and other allergy symptoms.
For relief, do steam inhalation as follows: Boil 2 cups of water in a pot and add 1 cup of elecampane hydrosol. Settle with a towel over your head and the pot to trap steam. Breathe in the steam to relieve inflamed sinuses and itchy eyes.
You can also do a foot soak every night before bed for allergy relief. Find the recipe below.
4. Eczema & Psoriasis
Elecampane strengthens the immune system and helps fight auto-immune diseases such as psoriasis. As part of your healing journey to treat eczema and psoriasis, drink 1.5 liters of water containing 5 ml elecampane and 15 ml Melissa hydrosols throughout the day. Repeat daily for three weeks and take one week off and repeat as required.
5. Toner for Congested Skin
In a fine mist spray bottle, combine ¼ cup elecampane hydrosol and ¼ cup green myrtle hydrosol. Mist it on your face to clear congested and acneic skin.
6. Reduces Hypertension
Elecampane is a valuable cardiovascular tonic and helps regulate, calm and reduce hypertension. You can consume it internally: 1 tbsp in 1/5 liters of water throughout the day.
7. Effective Treatment of Thrush, Leukorrea and Vaginitis
Because of its mucolytic properties, elecampane hydrosol is a good treatment choice to be used in a douche. It should be diluted in distilled water and used as a douche not more than twice a day for three days.
How to Use Elecampane Hydrosol
» Nasal drops
Dilute 2 ml of elecampane hydrosol at a 30% percent concentration in distilled water. Snuff a few drops up your nose then blow it out to cleanse. Repeat as many times as needed to clear nasal congestion.
» Acute bronchitis tonic
Take 1 tbsp of pure elecampane hydrosol three time a day to relieve acute bronchitis symptoms.
» Healing foot soak
Collect hot water from the tap in a small tub that can fit both your feet. While the water is running, add 1 cup Epsom salts and let it disperse. Then add 30 ml of elecampane hydrosol and 3 drops of white spruce essential oil. Soak for at least 15 minutes.
» Immune Boosting Water for Allergies
To 1.5 liters of hot water, add 30 ml of elecampane hydrosol and 20 ml of cinnamon hydrosol. Store in a hot water flask. Keep sipping it throughout the day to strengthen your immune system and fight allergies.
For More Ideas on How to Use Elecampane Hydrosol, Read: 25 Ways to Use Hydrosols 
Where to Buy Elecampane Hydrosol
Always ensure to purchase 100% pure organic and preservative-free elecampane hydrosol, especially if you'll be drinking it. You can buy it here.
References
Hydrosols: The Next Aromatherapy by Suzanne Catty