Essential oils are hydrophobic and cannot blend in water. Find out about naturally emulsifying agents for essential oils for seamless blending.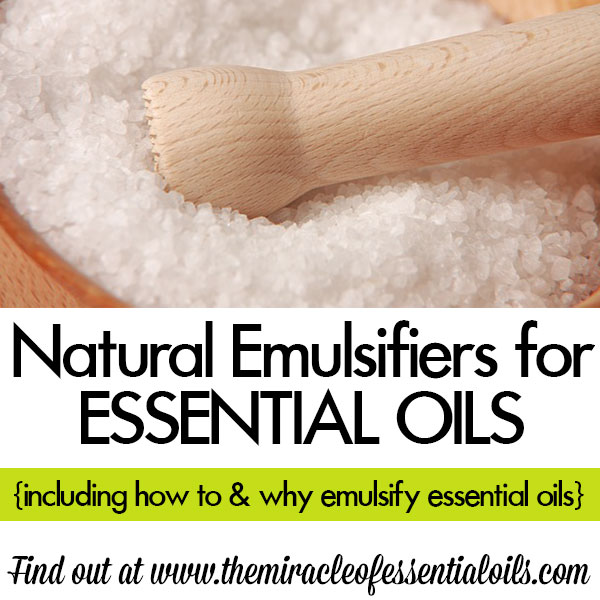 Blending Essential Oils
Essential oils are potent aromatic substances extracted from plant material that often need to be diluted in order to be used.
Unfortunately, many recipes containing essential oils on the internet tell you to mix essential oils in water. This may be okay when you are using the water-essential oil mix for cleaning purposes, but it is not feasible when you are ingesting essential oils, applying them on your hair or when applying them on your skin.
For skin and hair application, you can dilute essential oils in a carrier oil (the most popular way of diluting essential oils) or suspend them in an emulsifier to get them evenly distributed.
How an Emulsifier Works
Since essential oils are hydrophobic and cannot blend in water, we will need an emulsifying agent to glue them together and form an emulsion.
An emulsion is nothing more than a smooth mixture of two liquid substances that are normally not mixable. A popular example of an emulsion is mayonnaise, which is an emulsion of oil, lemon juice and egg yolk among others.
An emulsifying agent is a substance that can bind together two unmixable liquids such as oil and water.
The molecular structure of emulsifiers has 2 portion: one that is attracted to oils while another portion is attracted to water. The portion attracted to oils binds the essential oil, while the portion attracted to water, will bind the water substance. This creates a smooth, evenly distributed substance of both essential oils and water being evenly distributed in the matter.
Simply speaking, the molecules in an emulsifying agent tend to stick between the oil molecules and the water molecules, effectively gluing them both together.
List of Natural Emulsifying Agents for Essential Oils
There are many commercial emulsifiers and artificial emulsifier that you can get on the market. But for most of us making natural products for personal use, we are looking for cheaper and easily accessible emulsifiers for personal use.
This list contains natural emulsifiers that you probably already have in your house. Here are the top 12 natural emulsifying agents for essential oils:
1. Milk
2. Yogurt
6. Alcohol
7. Gelatin
8. Salts
How to Emulsify Essential Oils
To emulsify essential oils, all you have to do is to add the required number of drops of essential oil to your natural emulsifying agent from the list above. Stir vigorously to bind everything together.
» For cleaning products, you can use liquid castile soap, alcohol, vinegar etc.
» For the purpose of ingestion (which should be done with caution), emulsify essential oils in milk, yogurt or honey.
» For purposes of topical application on skin or hair, use aloe vera gel or witch hazel.
Tips
Emulsions tend to have a cloudy to white appearance. Emulsions may not always be stable, especially homemade ones, and may separate into layers after some time. But this is totally harmless and a good stir can make it a smooth emulsion once again.
What are your favorite essential oil emulsifiers? Please tell us in the comments below!