Learn how to use Epsom salts and essential oils for sore muscles in this article!
Sore muscles can result from an intense workout or strenuous activity. They can also be caused by sitting or standing in one position for a long period of time. Thankfully, you can get quick relief from sore muscles right at home. And that's by using Epsom salts and essential oils!
What is Epsom Salt?
Did you know that Epsom salt is not actually salt? It's a natural occurring pure mineral compound of magnesium and sulfate. The name Epsom comes from a bitter saline spring in Surrey, England. Epsom salt have been around for hundreds of years. They have numerous benefits, some of which include:
Relieve sore muscles
Soothe sunburn
Ease itchy skin
Treat eczema and psoriasis
Improve sleep
Remove splinters in skin
Reduce stress
Relax muscles
Reduce bruises
Soothe tired feet
And more!
When Epsom salts are mixed in water, they break down into magnesium and sulfate. Magnesium is best absorbed though the skin so Epsom salt is one way to get magnesium into your body.
Now that we know what Epsom salt is, let's check out the best essential oils for sore muscles:
The Best Essential Oils for Sore Muscles
Sore muscles need to be relaxed and soothed. Essential oils can do that job perfectly! In addition, essential oils numb and cool down pain, reduce inflammation and improve blood circulation – all of which relieve sore muscles. Check out the list of 5 best essential oils for sore muscles below:
Read more: 15 Best Essential Oils for Sore Muscles plus 3 DIY Recipes
How to Use Epsom Salt and Essential Oils for Sore Muscles
The best way to use Epsom salt and essential oils for sore muscles is by taking an Epsom salt bath! Here is a good recipe for DIY bath salts using Epsom salts:
DIY Bath Salts with Epsom Salts and Essential Oils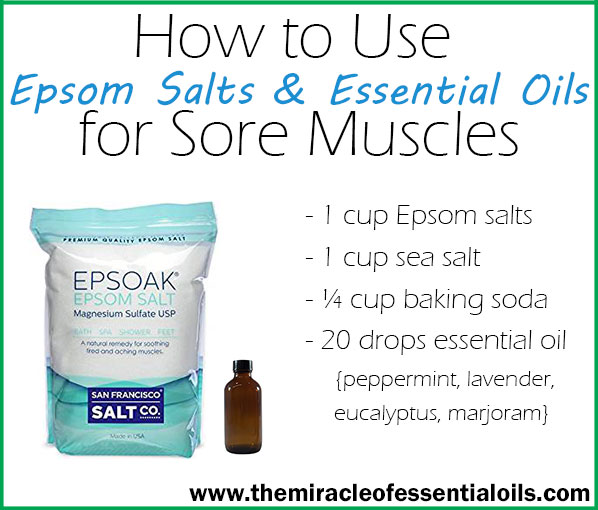 What you need
Directions
Into a large mixing bowl, add 1 cup Epsom salts, 1 cup sea salt and ¼ cup baking soda. Use a whisk to mix the powders together.
Now add your 10 drops of lavender essential oil and 10 drops eucalyptus essential oil. Whisk to disperse the essential oils throughout the mixture.
Using a ladle, collect the mixture and pour it into your mason jar(s).
Your DIY essential oil bath salts are ready!
To use, place ¼ to 1 cup of bath salts into a warm bath. Soak in the bath for 20 minutes.