Ouch! Bug bites really hurt. Plus they're super itchy. Resist that itch and try this essential oil blend for bug bites. It works like a charm!
You Were Bitten by What?!
Before you even begin scratching the bite, know what bug bit you! That's because some bug bites like those of the black widow spider are poisonous and need immediate medical attention. Bugs like ticks can carry bacteria that cause Lyme disease, which makes you very ill.
Below are some of the common bugs that bite humans:
Mosquitos
Ticks
Bed bugs
Fire ants
Water bugs
Spiders
Lice
Bees, hornets, wasps
If you think a tick bit you, then check the site to see if it's still attached to your skin! If it is, get a credit card and use the edge to remove the pesky little bugger and keep it in a sealed plastic bag. Check your whole body with a hand-held mirror to see if you have more ticks attached and repeat. Contact your health specialist about what to do next. This is because ticks can spread tick-borne illnesses like Lyme disease which can be deadly.
Now if any other bug bit you, you can relieve the itch, pain, sting, burning and redness by using essential oils. Below are the best essential oils for bug bites:
Essential Oils for Bug Bites
Essential oils provide nice cooling sensations that numb pain, reduce burning and provide quick relief. They even take the itch out of your bug bite! Here are the best essential oils you can use for bug bites:
Peppermint essential oil
Eucalyptus essential oil
Lemon essential oil
Lavender essential oil
Basil essential oil
Thyme essential oil
Chamomile essential oil
Tea tree essential oil
Clove essential oil
Bringing Relief: DIY Essential Oil Blend for Bug Bites
What you need
10 drops lavender essential oil
10 drops lemon essential oil
10 drops peppermint essential oil
Fractionated coconut oil
10 ml roller bottle
Directions
Into the roller bottle, add 10 drops each of lavender, lemon and peppermint essential oil.
Now top off with fractionated coconut oil.
Replace the roller ball.
Roll over the irritated area for sweet relief!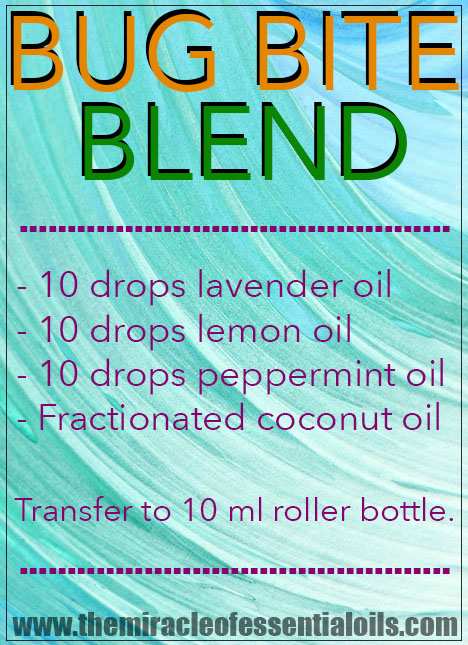 Other Natural Remedies for Bug Bites
Stick a banana peel onto the bug bite for a few minutes.
Make a paste of baking soda and water then apply it on the affected area.
Numb pain and itchiness with an ice cube.
Spread aloe vera gel on the bug bite.
What do you think of the above essential oil blend for bug bites? Are you ready to use it? Share below!