Hormonal acne can affect just about anyone. Luckily, you don't have to turn to harsh OTC products to get your acne under control. You can use a natural and effective treatment option – using essential oils. In this article, we describe an essential oil blend for hormonal acne that you'll find works!
What is Hormonal Acne?
Hormonal acne is a type of acne caused by hormonal imbalance in the body.
It is typically associated with puberty, menstruation and menopause. In these phases, hormones are fluctuating, which causes the body to react differently. The skin may produce more oils which traps dirt, bacteria and pollution which causes acne.
Other causes of hormonal acne include PCOS (Polycystic Ovarian Syndrome), stress, anxiety, switching/stopping birth control pills and increased androgen levels.
Do you Have Hormonal Acne?
How do you tell if you have hormonal acne? Since hormonal acne mostly affects women, they can usually tell if a large pimple pops up before their menstrual cycle.
Otherwise, here are some of the characteristics of hormonal acne:
During puberty, hormonal acne appears in the T-zone of your face. This includes the forehead, nose and chin.
Adult hormonal acne is typically found in the lower cheeks, jaws and chin.
Hormonal acne around the time of your menstrual cycle can appear as large pus-pilled pimple on the cheek or nose.
For some people, hormonal acne is rash-like. Tiny pimples that have a pus-filled head.
It also appears as deep cysts that do not come to a head and are not filled with pus. These are painful and tender when touched.
Essential Oils for Hormonal Acne
Now, there are some essential oils that are known for their hormone-balancing abilities. Two of these are clary sage and geranium essential oils.
These essential oils also have other properties that are beneficial for fighting off acne which include: reducing inflammation, disinfecting skin, and controlling sebum production.
Other essential oils beneficial for hormonal acne include:
Rose essential oil
Thyme essential oil
Sandalwood essential oil
Read: 15 Essential Oils for Acne + How to Use Each
Recipe: Essential Oil Blend for Hormonal Acne
In this recipe, we're using hemp seed oil because it is known to balance hormones when used internally and externally. Hemp seed oil is also non-greasy, has high linoleic acid content (which people with acneic skin have low levels of) and is non-comedogenic, which means it won't clog pores at all.
Okay, here's the essential oil blend for hormonal acne we have to share today: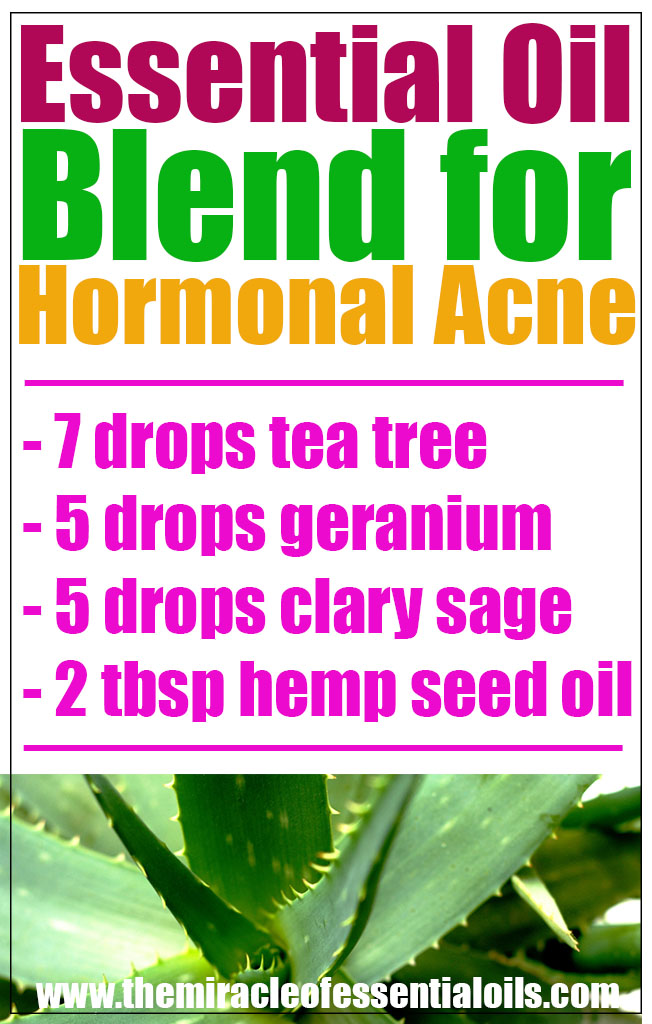 What you need
Method
Mix up the oils in the dropper bottle and shake well to combine.
To use, place a drop on a Q-tip or clean index finger and dab on huge acne. Or, rub 3 drops on your palms then apply on your face. Use it as a natural moisturizer, under makeup, or an overnight treatment.
Are you ready to use this essential oil blend for hormonal acne? Share your thoughts below!