Essential oils added to a body lotion make it more exciting and smelling fantastic! Learn how to make your own moisturizer with this essential oil body lotion recipe!
Lotion making at home can seem hard and complex at first glance – but with the right ingredients and tools, you can totally do it! It's very easy to make an all-natural lotion at home with skin friendly ingredients and absolutely no chemicals. A lotion that moisturizes, protects, soothes and heals your skin, keeping it looking healthy and beautiful.
Without further ado, let's go straight on with the easy essential oil lotion recipe! Try it out and you'll fall head over heels in love!
DIY Essential Oil Body Lotion Recipe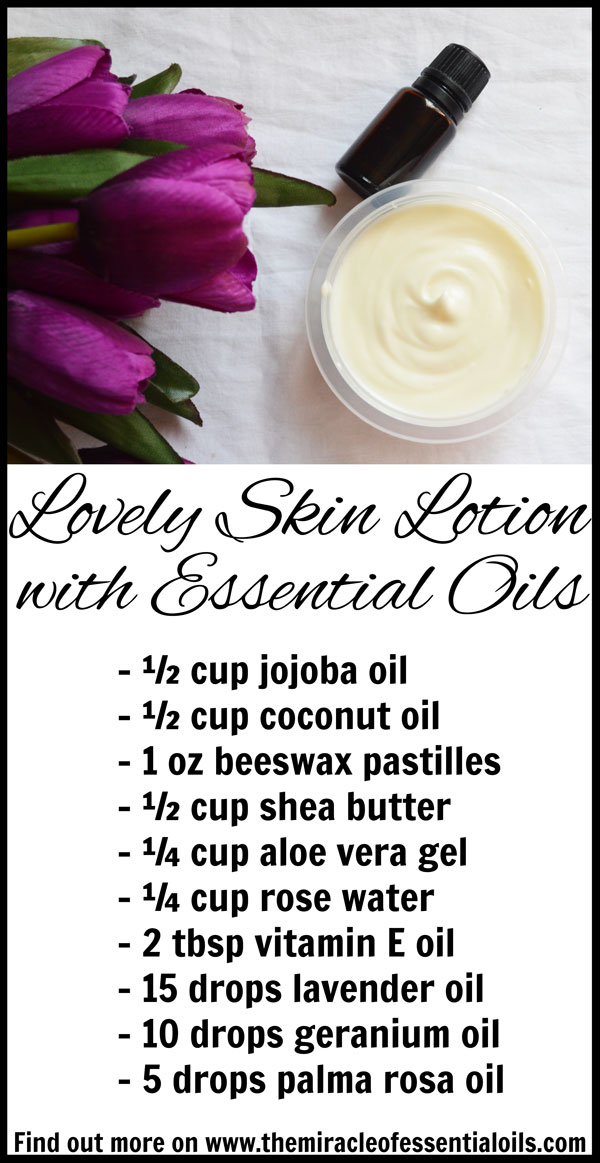 What you need
Method
Measure out the jojoba oil, coconut oil, shea butter, vitamin E oil and beeswax pastilles into a double boiler.
Heat over a low medium flame until gently melted.
Once melted, allow the oils to cool down completely to room temperature. You may place the oils in the refrigerator to speed up things.
Meanwhile, whisk together the rose water and aloe vera gel until well combined in a pyrex measuring cup.
When the melted oils have reached room temperature, pour them into a vitamix blender.
Start the blender at medium speed and while the melted oils are blending, slowly and steadily pour the rose water and aloe vera gel mixture through the open end of the blender. This part must be done slowly so as to form an emulsion out of the oils and water.
It may take about 5 – 10 minutes for the emulsion to form and create a creamy white lotion.
That's it! Now transfer your lotion into a clean container, add the essential oils drop by drop and mix with a disposable spoon.
Store in a cool dry place away from direct sunlight.
Notes
This essential oil body lotion makes for about 2.5 cups. It can be stored in three 4 oz glass jars.
An immersion blender, hand mixer, or food processor can also be used to mix up the lotion – they all work well.
Dip into the lotion with clean and dry fingers to avoid contaminating it.
Use a small amount all over your body after a shower to keep skin soft and silky.