Cellulite is a visually unappealing skin condition that affects many women. Find out how to make your own essential oil cellulite wrap to dissolve cellulite without exercise!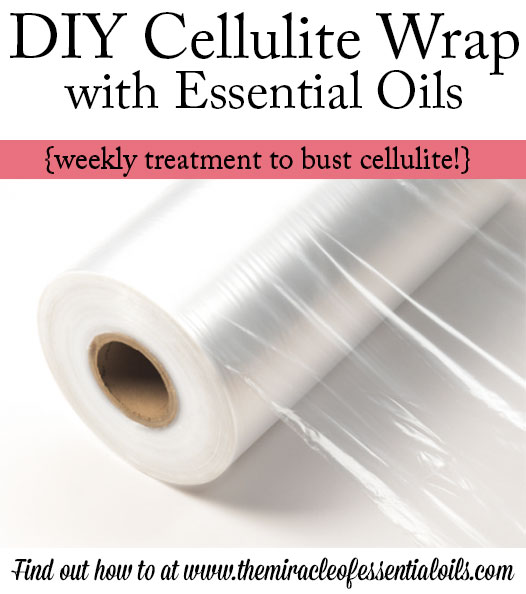 How do Essential Oil Cellulite Wraps Help?
Essential oils are powerful highly concentrated plant extracts in liquid form. Their chemical makeup comprises various compounds such as terpenes, oxides, ketone and others that give each oil its characteristic scent and therapeutic properties. An essential oil cellulite wrap helps reduce cellulite by:
Promoting flow of toxins and wastes from the cellulitic areas to sites of elimination
Breaking up the accumulated old fat cells that form cellulite
Promoting proper blood flow
Invigorating the area
Tightening and shaping the uneven and flabby area
Breaking out a sweat which enables excess fluid to escape
Reducing fluid retention
And more
Below, let's look at the top 10 essential oils for cellulite:
Top 10 Essential Oils for Cellulite
DIY Essential Oil Cellulite Wrap
Make this easy DIY essential oil cellulite wrap to bust cellulite and lose weight fast!
What you Need
You will need to make your cellulite massage oil first and combine it in an amber glass dropper bottle. Then you'll need to cut up a cotton cloth into any number of strips about 12 inches wide to fit snugly on your body, especially the thigh, butt and arm area which is prone to cellulite.
10 drops grapefruit oil
10 drops juniper berry
10 drops rosemary oil
5 drops geranium oil
5 drops patchouli oil
5 drops cypress oil
2 oz grapeseed oil (where to get it)
4 oz amber glass dropper bottle (where to get it)
Cotton strips about 12 inches wide (cut them up from a cotton cloth like this one)
Plastic/cling wrap (where to get it)
Bathrobe & wool blanket
Method
Combine the oils together in an amber glass dropper bottle.
Prepare your body for the wrap by taking a hot shower and exfoliating the cellulitic areas with a good coffee scrub.
Pat yourself dry then apply the cellulite massage oil deeply into affected areas.
Tie the cotton strips reasonably tightly and then cover with plastic wrap. Do not put the plastic wrap first because essential oils melt plastic. Put on a bathrobe.
Now leave the wrap on for an hour. For best results, lie down straight on your back during this time on a massage table or any table with a wool blanket covering your body. Note: The wrap will make you very sweaty and hot but that means it's working so keep going!
After the time is up, remove the wrap and knead the area with your knuckles for about 2 minutes to promote blood and lymph flow. Then take a shower, alternating hot and cold water to stimulate circulation.
Do this essential oil cellulite wrap about once a week.

Try out this essential oil cellulite wrap to dissolve those dimples and dips without exercise!