Essential oils are perfect ingredients to add to a natural deodorant: they fight bacteria, mask bad odor and smell fantastic too! Learn how to make your own deodorant with this super simple essential oil deodorant spray recipe!
Benefits of Making Your Own Deodorant
Why bother making your own deodorant when you can find a good deodorant at the store? Here are some reasons that'll get you running to make your own!
►Minimal ingredients: You've probably heard this more times than enough but take a look at the ingredients list at the back of your deodorant or antiperspirant spray bottle: is it long with unpronounceable words in a tiny script? I thought so. Meanwhile, this essential oils deodorant spray recipe contains  just 4 ingredients yet it still works well. Beat that!
► Chemical-free & non-toxic: Some of the ingredients in commercial deodorants are just a term that actually comprise other numerous ingredients – take fragrance for example, it goes by other names such as perfume and parfum. It's a term that represents a long list of undisclosed synthetic chemicals such as phthalates, aldehydes, benzenes and other toxic substances that have been linked to allergies, dermatitis, reproductive problems and more!
► Aluminum – free: Aluminum in deodorants is used to stop sweating by blocking the sweat ducts in the armpits. This causes the toxins and wastes that are normally removed from the body through sweat to get stuck inside and accumulate which causes health problems including breast cancer. Sweating is normal and actually healthy – it's one of the ways the body gets rid of wastes. This deodorant recipe will minimize sweating but not stop it altogether.
► It's cheap: Creating your own deodorant is cheaper than buying highly priced tiny containers of store-bought deodorant.
► It's easy to make: Just whip up 4 ingredients and voila! You have a deodorant spray that's refreshing, smells great and most importantly, WORKS!
► You fun to customize: Fancy a refreshing scent? Use a blend of fresh and minty essential oils. Want a citrus aroma? Mix up your citrus essential oils! Honestly, it's so much fun to experiment with different scent blends!
DIY Essential Oil Deodorant Spray Recipe
This essential oil deodorant spray recipe is made up of 4 ingredients such as: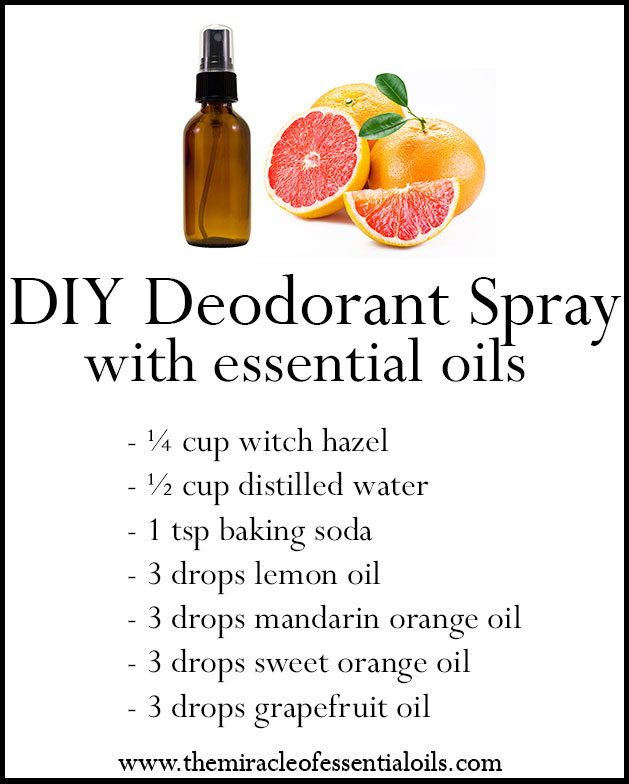 What you Need
Essential Oil Blends for Deodorant
Citrus burst

Fresh forest
For sensitive underarms
Flower power
Invigorating
Method
In a bowl, combine well the water, witch hazel and baking soda.
Pour it into a glass spray bottle using a funnel.
That's it! Spritz once or twice on each armpit then let it dry.
Store your essential oil deodorant spray in a cool dry place, away from direct sunlight.
One spritz can last for about 6 – 8 hours, depending on the amount of physical activity you do that day.
What do you think? Are you willing to try this essential oil deodorant spray recipe?