Are you someone who suffers from allergies more often than not? You should definitely try any of these essential oil diffuser blends for allergies as a natural treatment for quick relief!
What are Allergies?
Allergies are also known as seasonal allergies. They refer to an over-reaction of the immune system to pollen, dust, animal hair and other substances that float in the air during certain seasons of the year.
People are most affected by allergies during spring. This is when there's a lot of pollen and spores in the air. Once these substances find their way into the sinuses or nose, they cause non-stop sneezing, runny noses, itchy eyes, clogged sinuses and more.
Allergies can leave you feeling very sick and groggy! Thankfully, you can find quick relief using essential oils, Nature's pure plant extracts. There are many essential oils for allergies, which you can check out here: Top 10 Essential Oils for Allergies
One of the ways you can use essential oils for allergies is by diffusing them! In this article, discover 10 essential oil diffuser blends for allergies.
Where to Get a High Quality Diffuser
Before we look at the diffuser blends for allergies, ensure to get a good high quality essential oils diffuser. If you want some good recommendations that have affordable prices, please check out:
Top 10 Essential Oil Diffusers Under $20 and Best Essential Oil Diffusers Under $50.
One of my personal favorite budget-friendly diffusers is this  Aickar 200ml Mini Essential Oil Diffuser, Aromatherapy Diffuser with Touch Sensitive Buttons, Ultrasonic Cool Mist Humidifier with 7 Color LED Light and Auto Shut-off Function– for Office, Spa, Baby Room, Etc.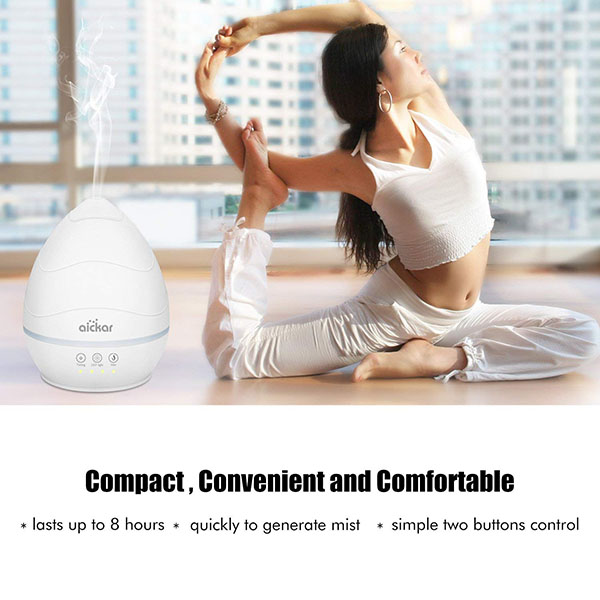 It's under $20, noiseless, works very effectively, can be used in any area of the home and lasts a long while!
Now let's check out 10 Essential Oils Diffuser Blends for Allergies!
10 Essential Oil Diffuser Blends for Allergies
Add the essential oil drops to your diffuser, add the required amount of water (following the manufacturer's instructions) then diffuse for 15-60 minutes.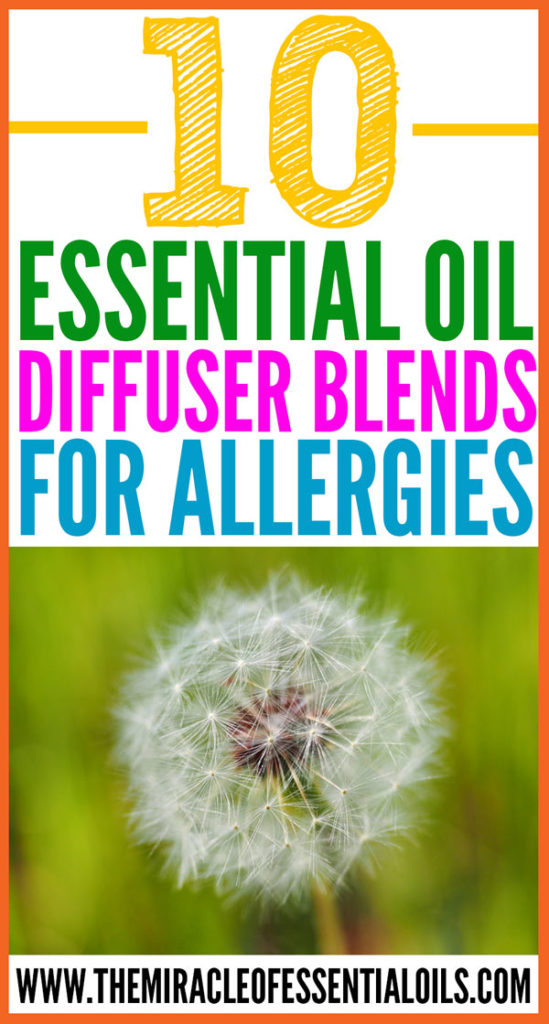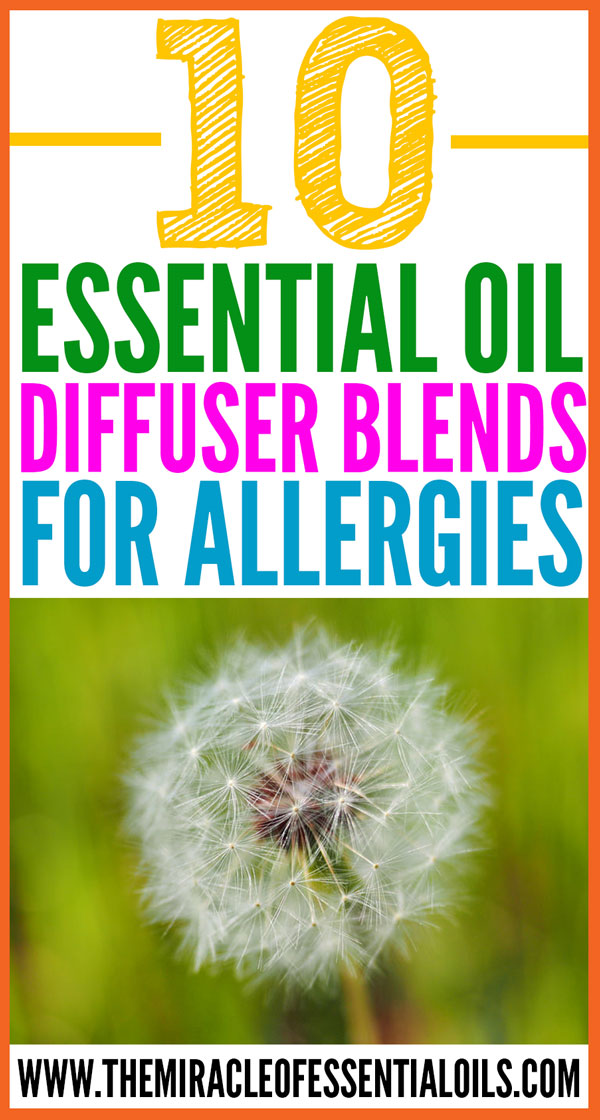 1. Seasonal Support
5 drops lavender
3 drops vetiver
2 drops ylang ylang
2. Congestion Relief
3 drops peppermint
2 drops eucalyptus
2 drops tea tree
1 drop lemon
3. Sinus Pressure
3 drops peppermint
3 drops lemon
3 drops eucalyptus
4. Germ Fighter
3 drops tea tree
2 drops lavender
2 drops peppermint
5. Sinus Headache Relief
4 drops lavender
4 drops peppermint
2 drops frankincense
2 drops basil
6. Breathe Easy
3 drops eucalyptus
3 drops peppermint
3 drops rosemary
7. Sore Throat Relief
2 drops clove oil
2 drops lemon oil
2 drops cinnamon oil
2 drops eucalyptus oil
2 drops rosemary oil
8. Immune Boosting Blend
2 drops peppermint
2 drops lemon
2 drops eucalyptus
1 drop rosemary
1 drop lime
1 drop clove
9. Uplifting Blend
2 drops sweet orange
2 drops lemon
2 drops bergamot
10. Breathe Easy
2 drops eucalyptus
1 drop lemon
2 drops peppermint
Do you have any effective essential oil diffuser blends for allergies you'd like to share?