Use any of these 5 essential oil diffuser blends for sinus infection as a natural treatment!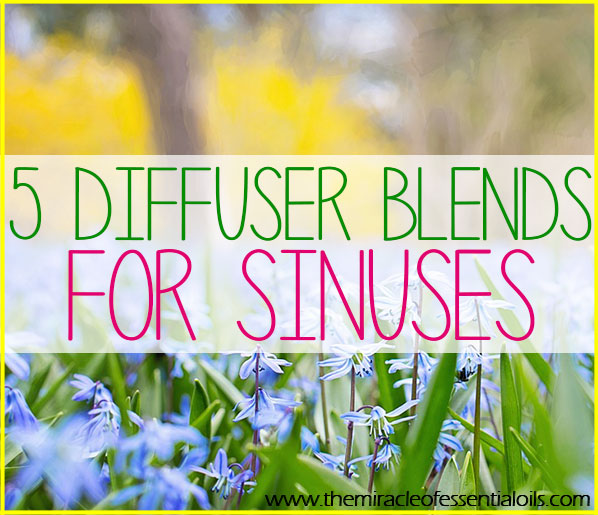 Did you know that essential oils are proven to relieve sinus infections within 20 minutes of use? Yup! And you can easily test this out by yourself by using essential oils for sinus infections!
Sinus infections are a common illness, especially during spring and cold seasons. A sinus infection is caused by inflammation of the sinuses. It is also called sinusitis. The sinuses are a series of hollow cavities found within the skull and surrounded by mucous membranes.
These infections occur when a foreign object such as an allergen or pathogen enter the sinuses via the mucous membranes of the nose or mouth. This foreign object aggravates the lining of the mucous membranes, causing irritation and inflammation. The body responds by trying to fight off the foreign object which causes the mucous membranes to inflame and fill with mucus.
Read More: 10 Essential Oils for Sinus Infection including Recipes for How to Use
Symptoms of Sinus Infection
Below are some of the symptoms of sinus infections:
Congestion
Stuffy nose
Sinus headache
Fever
Pressure behind the eyes and cheeks
Postnasal drip with thick yellow/green mucus
Fatigue
Using Essential Oils for Sinus Infection
Essential oils are highly concentrated liquid plant extracts. They offer a myriad of therapeutic benefits to the human body. They have antibacterial, anti-inflammatory and analgesic properties, among others that make them excellent remedies for sinus infections. Some of the ways to use essential oils for sinus infection include:
Warm salt water gargles
Steam inhalation
DIY Vapor Rub
Direct inhalation
Diffusing
In this post, we're going to look at how to diffuse essential oils and 5 effective essential oil diffuser blends for sinus infection. Diffuse essential oils in addition to using them in the above mentioned ways for super fast relief!
Where to Get a High Quality Diffuser
Before we look at the diffuser blends for sinus infection, ensure to get a good high quality essential oils diffuser. If you want some good recommendations that have affordable prices, please check out Top 10 Essential Oil Diffusers Under $20 and Best Essential Oil Diffusers Under $50.
One of my personal favorite diffusers is this  TaoTronics Diffuser!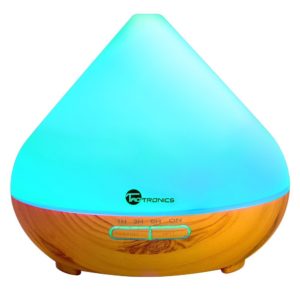 It's under $50, noiseless, works very effectively, can be used in any area of the home. It's also a quality, long lasting product!
5 Essential Oil Diffuser Blends for Sinus Infection
Add the essential oil drops to your diffuser. Next, add the required amount of water (following the manufacturer's instructions. Diffuse for 15-60 minutes.
1. Sinus Pressure Relief
3 drops peppermint
3 drops lemon
3 drops eucalyptus
2. Clear Your Sinuses
2 drops oregano
2 drops tea tree
2 drops peppermint
2 drops lavender
2 drops lemon
3. Destroy Germs
3 drops tea tree
2 drops lavender
2 drops peppermint
4. Sinus Headache Relief
4 drops lavender
4 drops peppermint
2 drops frankincense
2 drops basil
5. Breathe Easy
3 drops eucalyptus
3 drops peppermint
3 drops rosemary