The sun is shining and you can smell the ocean in the air! Summer's here! It's time to start using these 30+ essential oil diffuser blends for summer! Enjoy ~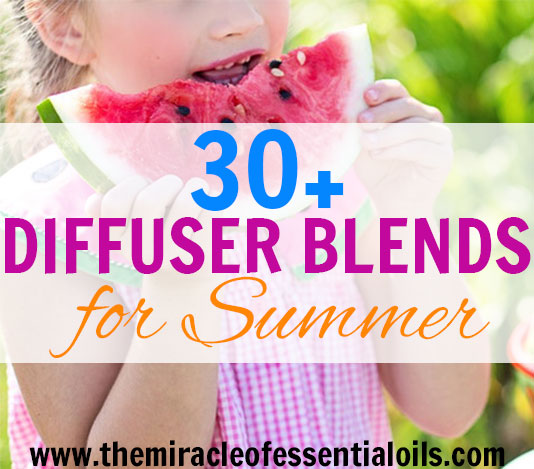 Where to Get a High Quality Diffuser

Please check out my posts: Top 10 Best Essential Oil Diffuser Under $20 and Best Essential Oil Diffusers Under $50 to purchase good quality diffusers.
Personally, one of my best essential oils diffuser is this Frosted Glass Essential Oil Diffuser, Amir® 300ml Cool Mist Ultrasonic Humidifier – 4 Timer Settings,10 Hours Continuous Mist,7 Color Changing LED,Waterless Auto off- for Office, Spa, Baby Room, Etc. 
It's under $50, noiseless, works very effectively, can be used in any area of the home and lasts a long while!
30+ Essential Oil Diffuser Blends for Summer
1. Ocean Breeze
2. Flower Meadow
3. Cozy Campfire
4. I Heart Summer
5. Icy Popiscle
6. Homemade Lemonade
7. Lazy Hammock
8. Breezy Day
9. Allergy Relief
10. Citrus Burst

11. Tropical Island
12. Good Morning Sunshine!
13. Bug Repellant
14.Sweet Summer
15. Refreshing Rain
16. Morning Workout
17. Sunny Smiles
18. Happy Summer Solstice
19. Summer in the Air
20. Californian Coast
21. Grassy Fields

22. Happy Summer Solstice
23. Summer Nights
24. Fresh Air
25. Sun Kissed
26. Summer Sunset
27. Energy Boost
28. Summer in the Alps
29. Starry Night
30. Freshly Mown Lawn
31. Hiking in the Woods

32. Picnic on the Hill

Please try out any of these essential oil blends for summer and come share your favorites! Do you have any personal summer blend you love? Share below! 😀