Hair growth masks can easily be whipped up at home with a few kitchen ingredients. But add a few precious drops of hair growth essential oils and BAM! You have a very potent hair growth potion for thick, long and lustrous hair. Find out how to make an amazing essential oil hair growth mask below!
This essential oil hair growth mask contains just one base ingredient: eggs which are filled with protein and sulfur, two key nutrients for healthy hair growth. They also contain powerful hair growth essential oils such as rosemary, lavender, peppermint and lemon! Below is the recipe for the hair mask:
DIY Essential Oil Hair Growth Mask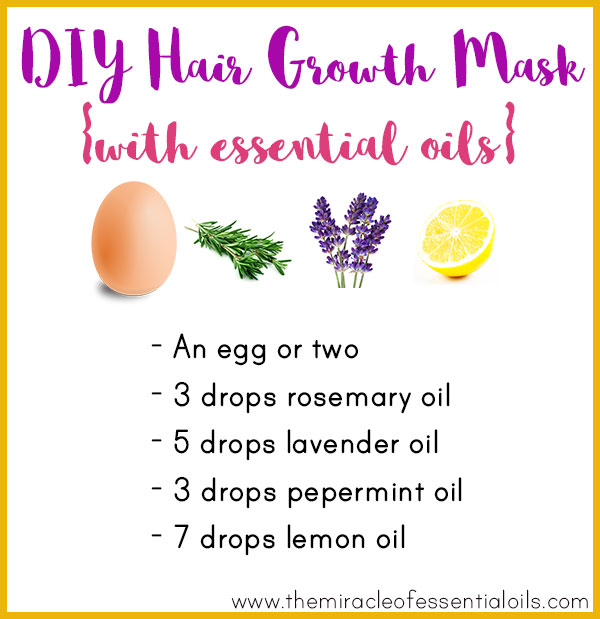 What you need
Method
Crack an egg or two into a mixing bowl and whisk well till the yolks break.
Now gently add the essential oils drop by drop.
Whisk again until everything is well combined.
That's it! Your essential oil hair growth mask is ready for use!
How to Use this Essential Oil Hair Growth Mask
Leave your hair open, parted in the middle.
Stand over your kitchen or bathroom sink. Now using your applicator brush or good ole fingers, scoop some of the hair mask and apply it all over your scalp, systematically.
Once your whole scalp is covered with the hair mask, move on to your locks.
Now tie your hair up and keep it in place with a clip.
Cover your head with a shower cap or plastic bag and let the hair mask penetrate for 15 minutes.
When the time is up, wash your head very well in COLD or TEPID water. Don't use hot water because this will cook the eggs leaving you with tiny scrambled egg bites stuck on your strands.
Follow up with shampoo (preferably a natural sulfate-free one) if needed, but the egg is a natural hair cleanser which helps remove dirt and excess oils by acting as an emulsifier.
Notes
Other hair growth essential oils include: cedarwood, thyme, basil, eucalyptus, cypress and more. You may choose any as suitable substitutes for the above oils.
Apply this essential oil hair growth mask on dry hair.
After the hair mask, you could do a simple apple cider vinegar hair rinse (a natural hair conditioner) to stabilize the scalp's pH and make your hair shiny, soft and silky. To make an ACV hair rinse, add 2 tsp of apple cider vinegar into a cup of warm water and pour it on your head as the second last rinse after rinsing off all the shampoo.
You can store this hair mask in the refrigerator for up to 2 days but it's best used fresh.
Consider investing in a chlorine shower filter to remove harmful chemicals like chlorine and soften hard water before it reaches your hair and starts weakening the hair follicles.