Use any of the following essential oil hair lightening spray recipe ideas to lighten your hair at home – naturally! We have 3 fun recipes that you can try out!
Use Essential Oils For Beautiful Hair
Before we look at a suitable essential oil hair lightening spray recipe, let's do a little background on essential oils for beautiful hair. For centuries together, essential oils have been used in hair care and with some stunning results. Frequent hair washing and its constant exposure to the natural elements like, dust, polluted air and strong sunlight strip the scalp of its natural oil, making your hair frizzy and scalp dry, flaky and itchy.
Applying natural oils keeps the skin on the scalp hydrated, forming a protective layer on each hair strand to waterproof it and keep it perpetually moisturized. Because of their medicinal properties, essential oils are also used widely to treat hair problems like premature graying, dandruff and/or hair loss.
Regular essential oil hair massages also lead to improved blood circulation in the scalp and stimulation of hair follicles that enhances hair growth.
Don't Miss: Our Essential Oil Ebooks
Did you know, essential in combination with other natural ingredients can work as hair lighteners also. The selection of an essential oil for use in hair care, however, depends on the nature of your hair and scalp.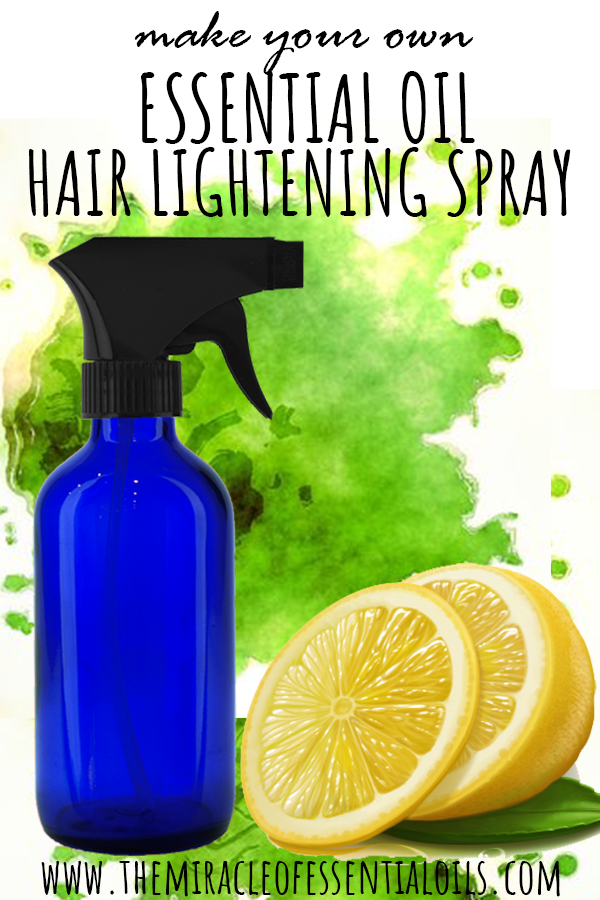 Hair Lightening At Home
You may have often heard that by applying fresh lemon juice to your hair, you could get those much wanted sun-kissed highlights. It could work provided you have fine textured fair hair.
It's also important to consider  achievable results first before you attempt to use essential oils to lighten your hair.
You may not be able to predict exactly how your hair will turn out with home ingredients. Blondes could end up blonder hair; those with light brown hair could end up with streaks of dark blonde hair peeking through; and brunettes could transform into strawberry blondes!
Keep in mind that any DIY natural recipe or lemon juice wouldn't have drastic results on black hair. You may try using it in conjuction with a mineral-removing shampoo. This could possibly give darker hair an overall lighter appearance.
Essential Oil Hair Lightening Spray Recipe
We've got 3 fun essential oil-based recipes that are effective in lightening hair color:
1. Lemon oil-based hair spray:
Take half cup water or half cup of geranium, chamomile or helichrysum hydrosol and mix with 40-50 drops of Lemon oil. Strengthen the solution by mixing 10 drops of grapefruit oil and 5 drops of rosemary oil for extra nourishment to your hair. Blend well and store in a spray bottle. Spray it on the hair before going out sun exposure. As you keep using it, watch your hair turn lighter.
2. Cinnamon, Lemon & Cassia-oil based spray:
Take a cupful of boiling water, half a cup of dry chamomile flowers, about 40 drops of cinnamon and lemon oil each and about 20 drops of cassia essential oil. Pour the water over the dry chamomile flowers and allow it to steep till the water reaches room temperature. Strain the water and mix in the oils. Blend well and store in a spray bottle. Spray the mixture on your hair before exposing it to sunlight.
3. Cinnamon oil-based hair lightening spray:
Take three tablespoons of ground cinnamon or about 40 drops of cinnamon oil and add to a bottle of herbal conditioner. Either spray the solution or massage it into your hair, leaving it overnight or for at least 4 hours. Keep repeating till you get the shade you desire. Requires no exposure to sunlight. Adding a teaspoonful of honey to it will lighten your hair more.
Notes
You must remember that all essential oils come in highly concentrated form and are very potent. That's why you should never apply them directly to your hair. This could actually do more harm than good to your locks. It's always advisable to mix the prescribed number of drops with suitable carrier oils like jojoba or coconut, floral water, alcohol and or vinegar.
Store your DIY mixtures in a fridge, or in a cool and dark place.
Using distilled water prolongs the solution's shelf life and keeps the other ingredients stable. Adding a tablespoonful of alcohol in the blend also stabilizes the ingredients.
Before exposing your hair to sunlight and applying these mixtures, wet your hair without shampooing so that your hair gets time to build up its natural oils and give it extra resilience against strong sunlight. It will also prevent excessive drying out. For partial hair streaking and specific highlighting, dip a cotton ball in the lightening solution and slide it over the hair strands that you want lightened. Keep doing it till you get the desired color.
Have you ever tried an essential oil hair lightening spray recipe? Which essential oils are your favorite for lightening your hair?