Store-bought hand sanitizers often smell weird and artificial – because they're full of synthetic fragrance! Fragrance is listed as one ingredient but it's actually a term used for a host of synthetic chemicals and toxins!
These chemicals  have been linked to allergies, ADHD, infertility and more. This makes fragrance-filled hand sanitizers downright dangerous for your health and definitely not something you want to use for your kids and yourself.
Learn how to make your own essential oil hand sanitizer that is safe for you to be applying on you and your kids' hands every time you need them clean.
Make Homemade Essential Oil Hand Sanitizer Using Natural Ingredients
» Aloe Vera Gel – A clear gel-like substance obtained from the thorny leaves of the aloe vera plant, aloe vera gel is soothing and cooling ingredient. That's one of the reasons it's famous for healing sunburns, burns and irritated skin. It also has incredibly healing properties that speed up wound healing. In this essential oil hand sanitizer recipe, aloe vera gel acts as the base or carrier ingredient for the essential oils. It also has astringent properties and cleansing effects that remove dirt, excess oils and grime from skin.
» Witch hazel – A watery substance got from the wtich hazel plant, witch hazel is a natural astringent which helps keep skin oil – free and removes grime. Witch hazel also has anti-bacterial properties just like aloe vera gel which destroy germs in addition to cleansing skin.
» Organic peppermint oil – Ensure to purchase USDA certified organic, GMO-free, heavy-metal-free and 100% pure peppermint essential oil because there's a tiny chance of ingesting a tiny amount of the oil in the hand sanitizer. Peppermint leaves a refreshing and cleansed feel on hands and it's also a powerful antibacterial which will destroy any germs on the skin.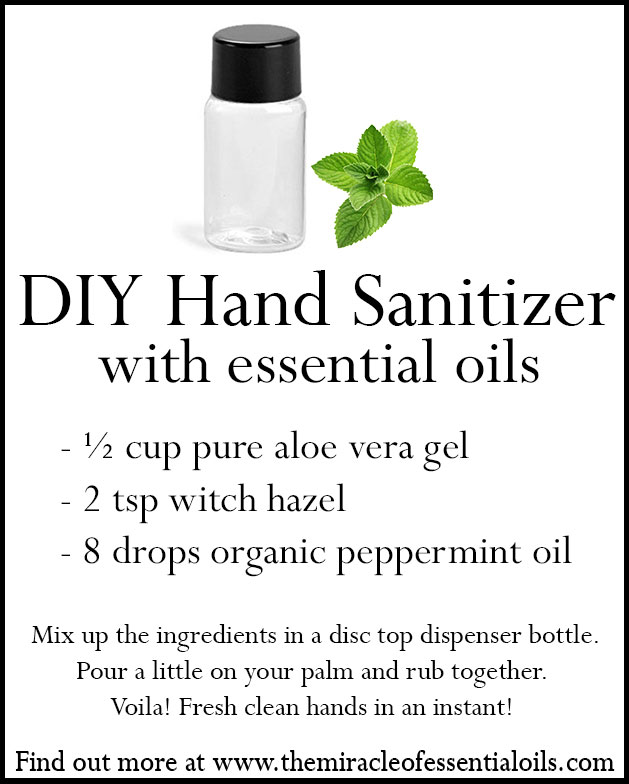 How to Make a Homemade Essential Oil Hand Sanitizer
Here comes the fun part – the recipe! All you have to do is mix up the ingredients together until well mixed (a whisk comes in handy here) then transferring it to a dispensing bottle. Make sure you store the final product away from direct sunlight because light rapidly degrades the aloe vera gel.
What you need
Method
Add the aloe vera gel and witch hazel to a Pyrex measuring cup.
Put the essential oils drop by drop followed by the rest of the ingredients.
Whisk everything till well combined.
Pour the mixture carefully into the dispensing bottle, using a funnel if necessary.
To use, squeeze a tiny dime-sized amount on your hand and rub both palms together.
Enjoy your instantly clean, fresh and moisturized hands!

Will you try out this easy essential oil hand sanitizer recipe?