Lice respond well to essential oil treatment. This essential oil lice repellent spray recipe has all the potent ingredients necessary to repel and kill nits, nymphs and adult lice all at once.
According to Kid's Health, lice are very common in children between the ages of 3 -12. This is the age they go to school and lice, being extremely contagious can spread like an endemic throughout the entire school.
Keeping in mind that having lice has nothing to do with poor personal hygiene, what can you do to help your child stay lice-free at school? Make a fun, yet potent essential oil lice repellent spray, of course.
Making an Essential Oil Lice Repellent Spray
In order to make a potent essential oil lice repellent spray, you will only 3 main ingredients. These are rubbing alcohol, a water medium for dilution and of course, the very important anti-lice essential oils. Here, let's take a closer look at the ingredients needed and how the help repel and kill lice.
1. Lavender hydrosol – Lavender hydrosol is nothing but the flower water extracted as a by-product of lavender essential oil distillation. This hydrosol is not only aromatic and therapeutic, its scent actually acts as a natural insecticide, repelling and killing lice. If you don't have lavender hydrosol, you can replace with pure water.
2. Anti-lice essential oils – There are many anti-lice essential oils to choose from including:
These essential oils contain compounds such as eugenol, methol and linalool, which are highly aromatic plant terpenes. These compounds are natural insect repellents that can deter and destroy lice.
3. Rubbing alcohol – You will need rubbing alcohol, or vodka to dissolve the essential oils and to make an easily usable spray that you can spritz away with!
DIY Essential Oil Lice Repellent Spray Instructions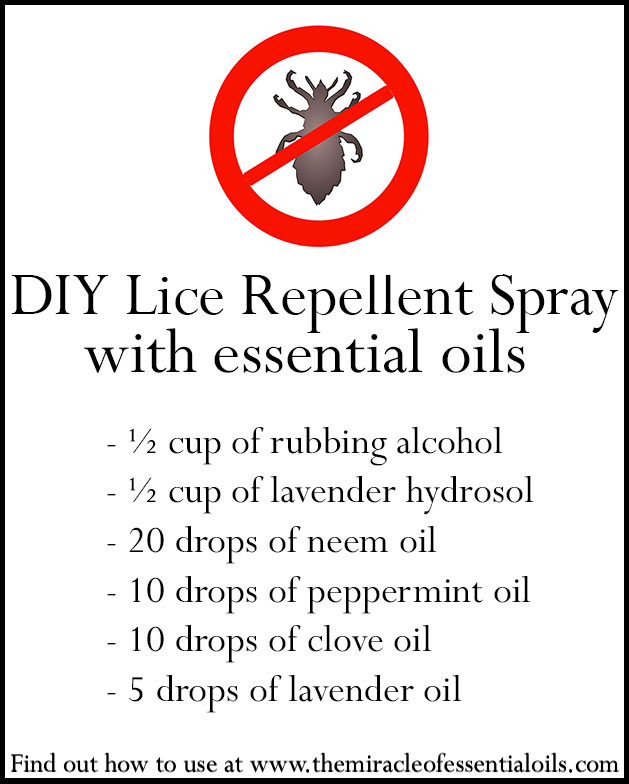 Ingredients
Directions
In a large spray bottle (8oz), preferably glass, measure out and pour all the ingredients carefully. Use a funnel to prevent spillage.
Now screw on the lid tightly and shake the bottle vigorously. Make sure the contents are well mixed up.
Your essential oil lice repellent spray is now ready for use!
How to Use Your Essential Oil Lice Repellent Spray
If your child does not have lice, but is going to school where lice have previously been experienced, then it pays to use this spray. Prevention is better than cure, they say. So spritz this spray on your child's hair right before they leave for school.
If you are treating a lice infestation on yourself or your children, this lice repellent spray is a great remedy to add to your usual lice removal protocol.
The steps to getting rid of lice are hands-on, manual and laborious, not to mention time-consuming. But there's no other way of going about it. You have to face the gruesome critters, one way or the other.
Trust me, I'm the biggest lice-phobic out there. I get positive shivers down my spine, limbs and everywhere else, just at the mention of the word "lice". Even I got rid of a lice infestation, TWICE. So believe me, you can do it too.
The general steps to follow are:
First equip yourself with a wide tooth comb, a fine tooth comb (nit picker), and a bowl of water. You will be using the bowl of water to immerse and trap the lice that you pick out of your or your child's hair.
Comb through your (dry) hair with a wide tooth comb to remove all tangles.
Now use the fine tooth comb, or nit-picker to systematically comb through the hair and remove the lice. The lice tend to grab onto the comb, rather than slide out of the hair. So using a keen eye, scan through the comb and pick out the lice and drop them into the bowl of water. You will need to be sharp and fast.
Repeat this process as many times as required, until you do not spot any louse any more, even after several comb-throughs.
Use the essential oil lice repellent spray to spritz the hair after fine-combing it.
You can also use this spray just before your child steps out for school, if there's a lice infestation at school.