Weight loss has always been a hot topic and chances are you know someone who's looking to lose a little weight – maybe you are looking to lose weight yourself! Using the power of aroma therapy and essential oils for weight loss is actually scientifically proven to keep your sugar cravings at bay! Discover 5 essential oil recipes for weight loss in this article!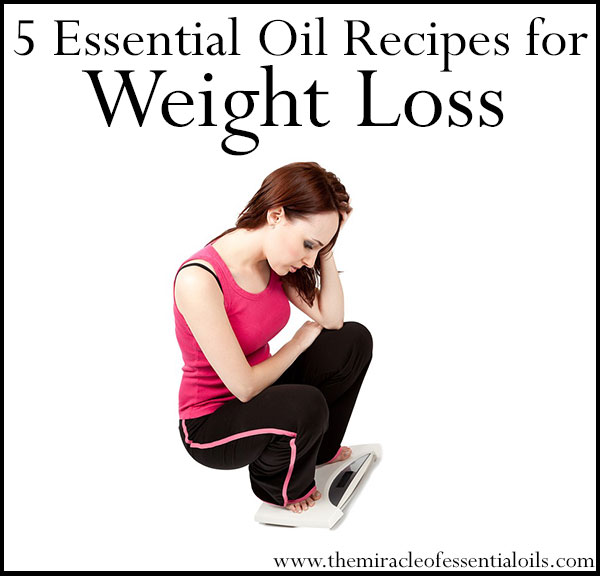 Research on Essential Oils for Weight Loss
► Study One: Smelling fresh scents like peppermint, spearmint and others reduce chocolate cravings in female college students compared to sweet scents like vanilla (1)
► Study Two: The scent of lemon and grapefruit increased the body's ability to burn fat and suppress weight gain (2)
► Study Three: Inhaling the scent of patchouli and fennel by experimental rats for 10 minutes two times a day over the course of 8 weeks lowered the food efficiency rate and lead to consumption of fewer calories (3)
► Study Four: Aroma therapy massage done on post-menopausal women using different oils including grapefruit and cypress significantly decreased abdominal subcutaneous fat and waist circumference as well as improved body image in the women. (4)
► Study Five: A study which showed that lime essential oil displayed a reduction in body weight and food consumption in mice suggested that lime essential oil plays an important role in weight loss and could be useful in the treatment of drug-induced obesity and related diseases. (5)
Top 10 Essential Oils for Weight Loss
Here are the top 10 essential oils for weight loss:
5 Essential Oil Recipes for Weight Loss
Now is the fun part, here are 5 exciting essential oil weight loss recipes to try out right now to bust the excess fat and reveal a sexy body underneath!
1. 'Stop the Cravings' Roll – On Blend Recipe
What you need
Method
Remove the roller ball from the roll – on bottle and add the essential oils drop by drop.
Top with grapeseed oil and replace the roller ball.
Close the bottle's cap and shake it gently to combine everything.
Roll on the back of the neck, behind ears, wrists and collar bones to benefit from the appetite suppressing properties of the aroma.
2. Cellulite Busting Massage Oil

What you need
Method
Add all the oils to a glass dropper bottle and store in a cool dry place.
To use, place 5 – 10 drops of this blend on your hand, rub your palms together and deeply massage your whole body or only cellulite-affected areas.
After applying, get the deep tissue massage tool and firmly knead into the cellulitic areas with consistent pressure.
Now leave the oils to sink in for 2 minutes.
Do this at least twice a week to see results!
3. Essential Oil Body Wrap for Weight Loss

What you need
Method
Exfoliate your whole body using a good scrub (you can even make your own by combining ½ cup of regular sugar with ¼ cup coconut oil) then take a hot shower.
Pat yourself dry then take measurements for your waist, hips, arms and all areas you're using the wrap for massage the above blend on your whole body, going towards the direction of your heart to stimulate blood and lymph flow.
Now wrap your body reasonably tight with the cotton fabric or muslin sheets and let the wrap stay on for 45 minutes or overnight.
While the wrap is on, make sure to drink 2 glasses of water to flush out the toxins.
Your body will feel tingly and the wrap will increase blood flow and make you feel hot but don't fidget – if you really want to lose weight, you have to put up with this – it's not that bad and the results are amazing – I promise!
Remove the wrappings and wow! Your skin will look toned with the cellulite, if any diminished.
Now for the amazing part, measure yourself again. Have you lost a few inches or what?!
Continue this once every week to get a toned figure and lose excess fat.
4. Detox Bath to Remove Toxins & Wastes
What you need
Method
When the bath is running, toss in the bentonite clay and let get mixed up in the water.
Once you've drawn your bath, mix the essential oils in the olive oil and add it to the water.
Stir it with your hand and soak in for at least 25 minutes to sweat out the toxins and waste.
5. 'No Thanks, I'm Full' Diffuser Blend Recipe

What you need
Method
Add oils to your cold air diffuser, following the manufacturer's instructions.
The aroma will send signals to the brain saying you're full! Oh yeah baby!
References
(1) Firmin MW1, Gillette AL2, Hobbs TE2, Wu D2. Effects of olfactory sense on chocolate craving. Appetite. 2016 Oct 1;105:700-4. doi: 10.1016/j.appet.2016.07.004. Epub 2016 Jul 6.
(2) Niijima A, Nagai K. Effect of olfactory stimulation with flavor of grapefruit oil and lemon oil on the activity of sympathetic branch in the white adipose tissue of the epididymis. Exp Biol Med (May¬wood). 2003 Nov;228(10):1190–2.
(3) Hur MH1, Kim C, Kim CH, Ahn HC, Ahn HY. The effects of inhalation of essential oils on the body weight, food efficiency rate and serum leptin of growing SD rats. Taehan Kanho Hakhoe Chi. 2006 Apr;36(2):236-43.
(4) Kim HJ1. Effect of aromatherapy massage on abdominal fat and body image in post-menopausal women. Taehan Kanho Hakhoe Chi. 2007 Jun;37(4):603-12.
(5) Asnaashari S1, Delazar A, Habibi B, Vasfi R, Nahar L, Hamedeyazdan S, Sarker SD.Phytother Res. Essential oil from Citrus aurantifolia prevents ketotifen-induced weight-gain in mice. 2010 Dec;24(12):1893-7. doi: 10.1002/ptr.3227.
For more information on how essential oils work for weight loss, please refer to the main article 15 Best Essential Oils for Weight Loss and How to Use!