It's time to treat your hair right! Throw out the nasty chemical shampoos and replace them with your own customized essential oil shampoo – with completely natural ingredients.
Why Shampoo Isn't Good for You
More and more people are starting become aware of the dangers conventional shampoos.
Turn over to the label of your shampoo – you'll find a populated list of fancy words, harsh chemicals and unpronounceable ingredients. Here are just a few of them and their effects on human health:
Sodium laureth sulphate: Skin irritant, causes skin rashes, damages liver, cancer-causing substance
Triclosan: Irritates eyes and mucus membranes, respiratory irritant, imbalances hormones, disrupts organ function
Synthetic fragrances: Clogs the lymphatic system, neurotoxic
Dimethicone: Comedogenic (clogs pores and creates acne); major irritant for skin, scalp, eyes and mucus membranes
Retinyl Palmite: Cancer-causing substance, organ damage, neurotoxic
Yikes! This should be enough reason to throw out your shampoo. But if you want a few more reasons to make your own shampoo, read on!
Benefits of Using Natural Ingredients
Making your own shampoo is one of the best things you can do for your hair. There is so much to gain from using an all-natural shampoo, just take a look below:
It's cheaper – Save money on toxins and use it to buy organic food instead!
It's natural – Cut out toxins from your life and watch yourself get healthier!
It's minimal – Simplify your life by using only a few ingredients!
It's fresher – Rather than using shampoo that's sat on the shelf for 2 years+, you'll be using fresher ingredients!
It's more effective – Fresher ingredients are more potent and work better!
Make Essential Oil Shampoo Using Natural Ingredients
In this recipe, we'll be using completely natural ingredients that work just as well as conventional products, if not better!
Here's how each of the ingredients we'll be using help:
» Coconut milk – ultra nourishing, moisturizing, full of wholesome nutrients, seals hair cuticles, hydrates hair, strengthens hair
» Liquid castile soap – surfactant (helps the shampoo foam), all natural, cleansing
» Essential oils – highly aromatic, all natural, anti-oxidant rich, promote shiny hair, strengthen hair, reduce dandruff, heal scalp ailments (such as scalp acne, scabs and inflamed follicles)
DIY Essential Oil Shampoo Recipe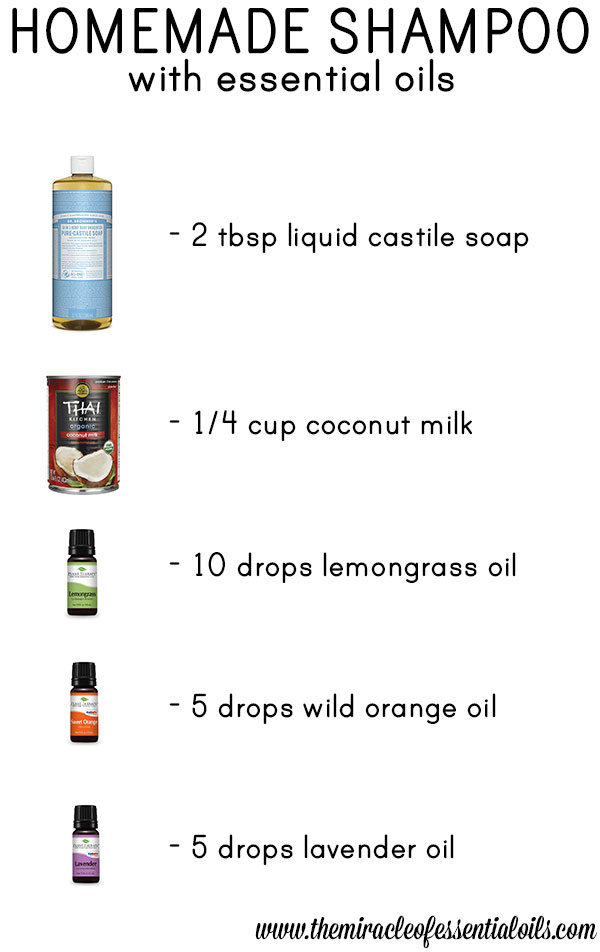 What you need:
Method:
Pour all your ingredients into an old shampoo bottle or 4 oz jar.
Screw on the cap and shake to get all the ingredients well mixed.
Now use like a normal shampoo!
Tips
If you use ready-made coconut milk, this shampoo will last you for up to 1 month. To make it last longer, store in the refrigerator.
Feel free to use any blend of essential oils that you like.
Follow your essential oil shampoo with a natural hair conditioner like this one: DIY Essential Oil Conditioner
Do you have a favorite essential oil shampoo recipe? Share with us in the comments below!