Looking for a synthetic fragrance-free, non-irritating and alcohol-free shaving aid? Try this natural essential oil shaving gel with only 6 ingredients!
This essential oil shaving gel is incredibly soothing, gives a cooling sensation when applied to skin and has a lot of other benefits such as:
Prevents nicks and cuts from the razor
Prevents razor burn
Wards off ingrown hairs
Prevents razor bumps
Soothes freshly shaved skin
Protects skin from bacteria that can slide into the open hair follicles and cause boils and infections
Gives a smooth shave
Leaves skin soft, moisturized and smooth
Smells amazing
It's designed to aid in shaving off facial hair and leaving skin feeling smooth and conditioned. Below are the ingredients this shaving gel contains and how they are useful:
Make Homemade Essential Oil Shaving Gel Using Natural Ingredients
» Aloe Vera Gel – A soothing and cooling ingredient, aloe vera gel not only acts as the base ingredient for this shaving gel but also soothes skin, prevents razor burn, bumps & ingrown hairs. It also has moisturizing properties to lock moisture into skin.
» Jojoba Oil – With its molecular structure similar to that of our skin's own natural oils, jojoba oil is one of the best oils for skin. It's hydrating and nourishing and keeps skin looking soft and supple.
» Patchouli, Vetiver & Cedarwood – The three create a grounding and masculine scent that smells wonderful. These oils are also moisturizing which will leave you with moisturized skin. All the oils have therapeutic calming and relaxing scents that promote a good shaving session.
» Vegetable Glycerine – It acts as a natural emulsifier that helps bind the rest of the ingredients together. Even if the essential oil shaving gel does separate, a quick shake will make them get well combined again. It also thickens the shaving gel and has moisturizing qualities as well.
How to Make a Homemade Essential Oil Shaving Gel
Here comes the fun part – the recipe! All you have to do is mix up the ingredients together until well mixed: a whisk is very helpful for this part. After mixing, transfer to a dispensing bottle. Make sure you store the final product away from direct sunlight because light rapidly degrades the aloe vera gel.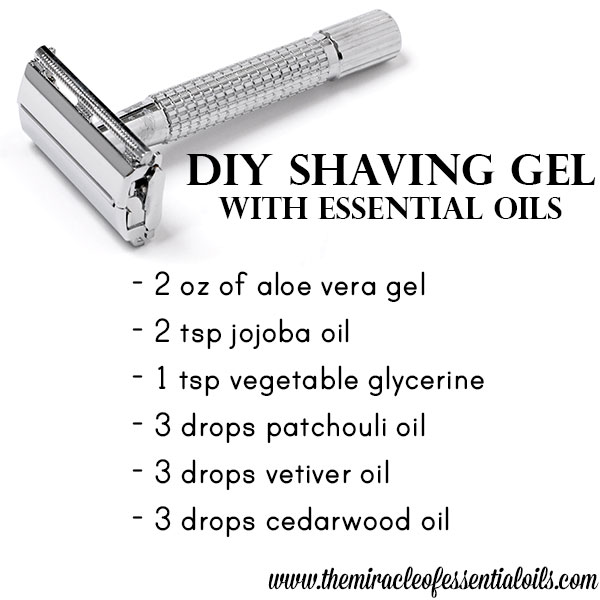 What you need
Method
Add the aloe vera gel to a bowl.
Put the essential oils drop by drop followed by the rest of the ingredients.
Whisk everything till well combined.
Pour the mixture carefully into the bottle, using a funnel.
To use, squeeze a tiny dime-sized amount on your hand and smear on your face & neck or legs and shave as usual. Remember to use a sharp good quality razor for a smooth shave.