Trouble getting some shut-eye? Learn how to whip up your own homemade essential oil sleep cream with this simple but effective recipe! Note: It can also be used for kids!
What is an Essential Oil Sleep Cream?
An essential oil sleep cream is a creamy lotion that contains essential oils with sedative effects such as lavender, cedarwood and vetiver as used in this recipe. It is rubbed on the body, especially the chest, back of neck and soles of feet before bed time and preferably after a shower or bath to relax the body and mind.
It helps promote deep peaceful sleep which makes it good for restless individuals, those who suffer from insomnia and sleeping disorders as well as children with ADHD and those who just can't sleep on time or peacefully.
Make Homemade Essential Oil Sleep Cream Using Natural Ingredients
In this essential oil sleep cream recipe, there are only five ingredients used and they are all natural and work effectively. Take a look:
» Shea Butter – A plant butter extracted from the shea nuts, shea butter is one of the base ingredients of this essential oil sleep cream. It also has skin soothing properties and is rich in Vitamin A and E.
» Coconut Oil – Coconut oil has a creamy consistency that melts with body temperature, making this sleep cream easy to apply. It's also soothing on skin and has antimicrobial properties.
» Lavender Oil – One of the most studied essential oils for sleep, lavender has powerful sedative effects. It is known for its calming properties that relax the mind & body, relieve stress and reduce anxiety.
» Cedarwood – Just like lavender, cedarwood is an excellent essential oil for sleep and relaxation. It helps individuals unwind and sleep peacefully.
» Vetiver – A sleep-inducing oil with a moist earthy aroma, vetiver is also grounding and helps the body release tension and promote relaxation.
How to Make a Homemade Essential Oil Sleep Cream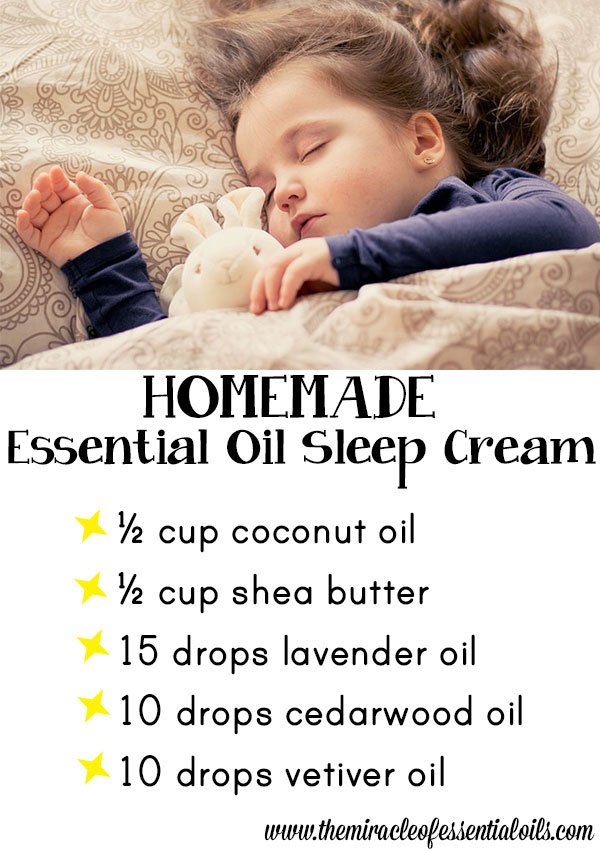 What you need
Method
Place the coconut oil and shea butter in a double boiler and gently melt them both to liquid form. You can make your own double boiler by putting a heatproof bowl with the coconut oil & shea butter over a pot containing about ¼ cup of water. Heat the pot and let the steam from the boiling water gently melt the coconut oil.
Once melted, let it cool off and slightly set in the refrigerator for 15 minutes.
When the time is up, remove it from the refrigerator and add the essential oils.
Whip it using a hand mixer for a minute until it turns soft and creamy.
Transfer the ready homemade essential oil sleep cream into a mason jar or 8 oz container.
To use, rub it on the chest, back of neck and soles of feet at bed time. You can use apply it right after your shower or night time bath for kids!