Want an all-natural, fluoride-free and paraben-free toothpaste? There's a recipe for one right here! Try this essential oil toothpaste recipe for healthy teeth and gums.

Toothpaste is something many people are hesitant to make at home but it shouldn't be. People have been using non-foaming natural 'toothpastes' for ages and they did have good teeth. Why are people hesitant to make their own toothpaste? Maybe it's the fear of it not working well, not banishing bad breath or not getting teeth squeaky clean.
But all these fears are unfounded because natural ingredients like baking soda coconut oil and essential oils do work very effectively in getting the mouth clean and smelling fresh!
Yes, you don't need a foaming chemical-laden toothpaste to get your teeth clean. This essential oil toothpaste can do that naturally!
Ingredients in this Essential Oil Toothpaste Recipe
This toothpaste recipe contains 6 effective ingredients:
Baking soda – Its mild abrasive texture helps scrape off plaque and tartar as well as remove stains on the teeth.
Coconut oil – Is antibacterial so it fights bacteria while giving your toothpaste a good consistency.
Xylitol – A natural sweetener to cut out the salty taste of the rest of the ingredients. It also promotes healthy teeth and gums!
Peppermint oil – Refreshing and cooling, peppermint freshens breath, masks bad breath, fights bacteria and improves blood circulation to the teeth and gums.
Cinnamon oil – Is a powerful antibacterial and antimicrobial agent that helps the mouth free of germs. It also neutralizes bad breath and promotes blood circulation.
Pink Himalayan salt – This is rich in numerous minerals (as many as 84), macrominerals and trace elements including calcium, chloride, iron, magnesium, phosphorus, potassium and sodium. It's important for strengthening the teeth and gums.
DIY Essential Oil Toothpaste Recipe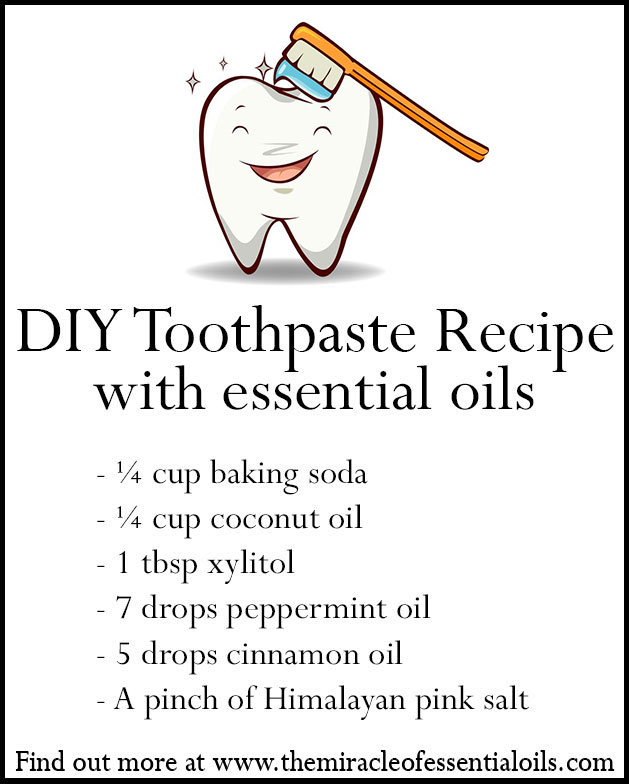 What you need
¼ cup baking soda
¼ cup coconut oil
1 tbsp xylitol
7 drops peppermint oil
5 drops cinnamon oil
A pinch of Himalayan pink salt
4 oz glass jar
Method
In a large bowl, add the baking soda, coconut oil, xylitol, mineral salt and mix well with a clean and dry spatula.
Now add the essential oils and mix again until you achieve a smooth mixture.
Transfer the toothpaste to a 4 oz glass jar.
Store in the bathroom cabinet, away from water and other contaminants.
To use, dip in your dry toothpaste and scoop out a pea-sized amount. Brush your teeth and admire the shiny and sparkly end result!
Notes
Get yourself a natural bamboo toothbrush and reap its health benefits!
Use twice daily.
Instead of xylitol, you can use stevia.
Other essential oils for the teeth and gums include tea tree, clove, myrrh, lavender, lemon and orange. Feel free to use any of your choice.

What do you think? Are you ready to try out this essential oil recipe?