Want to lose weight fast and without exercise? Try this homemade essential oil weight loss wrap now!
Make Your Own Weight Loss Wrap with Essential Oils
Many people want to lose weight fast especially when a social event is coming up but most weight loss tactics take time – they can't help you look a bit slimmer overnight. However, weight loss body wraps have begun receiving many positive reviews and there are several anecdotal reports that show that body wraps do help reduce weight fast, right before your main event. Results can be seen as quick as overnight.
How does this work? Weight loss body wraps are designed to promote sweating which helps in removal of excess fluid retention that's a cause of weight gain. They also wrap tightly around the body which helps firm, tighten and tone it. Weight loss wraps also promote flow of wastes and toxins to their places of elimination in the body, which is helpful for getting rid of cellulite. All these together help give an appearance of a more slim, shapely and toned body.
Adding essential oils makes a body wrap far more superior because there are particular essential oils that are known to greatly assist in detoxification of the body, clearing off cellulite, reducing water retention and promoting circulation and removal of wastes and toxins from the body. Below, find the recipe for an easy but super effective essential oil weight loss wrap:
Homemade Essential Oil Weight Loss Wrap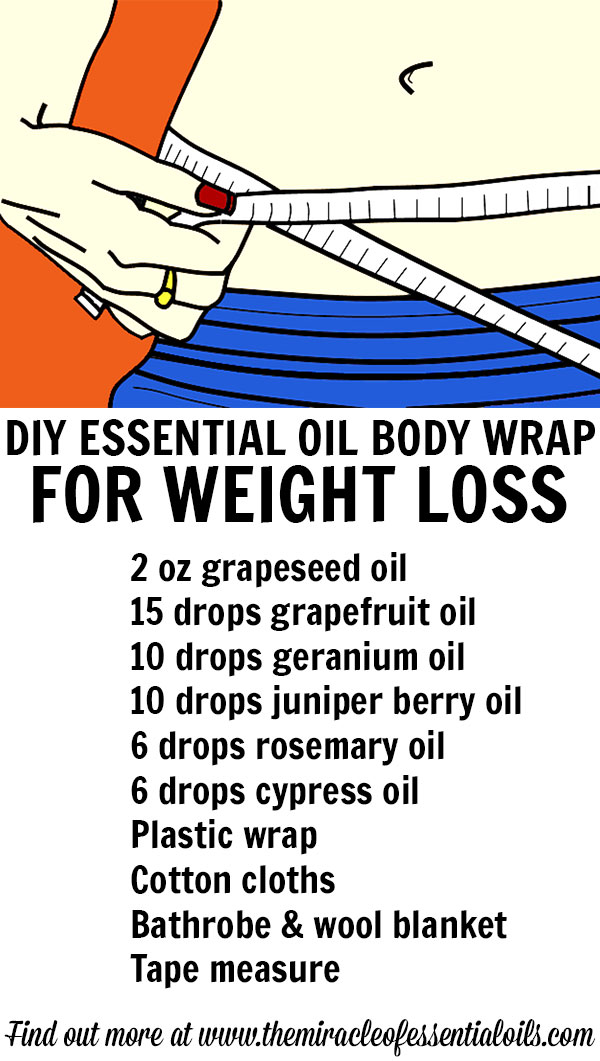 Before we look at the instructions and measurements, here is the essential oil weight loss blend you will need to make beforehand:
Combine the above oils in the amber bottle and shake well to mix them up. Store in the amber bottle.
What you Need
The above weight loss blend
Cotton strips about 12 inches wide for your waist, legs, thighs and arms (you can cut them off from this cotton cloth)
Plastic wrap (where to get it)
Bathrobe and wool blanket or thick large towel
Tape measure (where to get it)
Method
Now to prepare your body for the wrap, first take a hot shower and exfoliate your entire body with a good coffee scrub (coffee is also an excellent cellulite reducer).
Pat yourself dry thoroughly then measure yourself with a tape measure – check your waist, hips, arms, thighs and other key areas.
Deeply massage the above essential oil weight loss blend on your body, kneading with your knuckles to stimulate circulation. Avoid your chest area.
When your whole body is oiled, get the cotton strips and start wrapping your body: waist, thighs and arms – leave out the chest area.
After wrapping with the cotton cloths, wrap yourself with the plastic wrap until all areas of the cotton cloth have been covered.
Now put on a bathrobe and lie down on a massage table or normal table and cover your body with a wool blanket – this is to promote sweating which removes excess fluids and wastes from your system.
Be in that cocoon for about 45 minutes to an hour then peel off the plastic and cotton cloths. Drink at least 4 glasses of water while wrapped, which will help shrink fat by flushing off fat from the fat cells. Getting up to go to the bathroom is okay as long as you can back into the cocoon right after.
You can choose to take a shower to remove the oils from your skin but some people like to let the oils stay on for longer.
Go ahead and measure yourself! Your waist will be an inch or more smaller and your body will look toned, nourished and glossy!
Do one wrap per week.