From the laughable to the concerning, the myths surrounding essential oils and foot reflexology have to be cleared. That's when we can use essential oils the way they should be so that you can heal faster.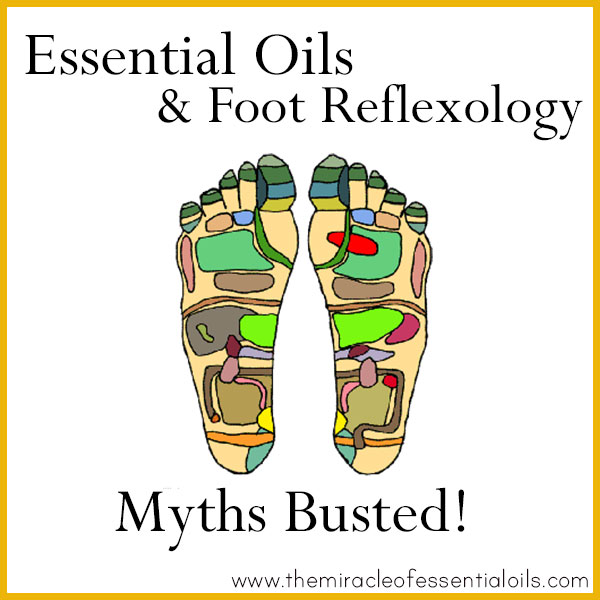 What is Foot Reflexology?
Foot reflexology, also known as foot zone therapy, is an alternative medicine concept, where pressure is applied to different areas of the foot believed to correspond to different organs in the body.
For example, the upper balls of the foot are said to correspond to the lungs. The heel of the foot is said to correspond to the reproductive organs. The big toe of each foot is said to correspond to the head, including the pituitary gland in the brain.
The main concepts of foot reflexology are as follows:
» Tender spots on any part of the foot may mean the corresponding organ is unhealthy or facing blockages.
» Injuring any part of the foot may also cause damage to the corresponding organ.
» By massaging and manipulating tender spots on the feet, damages and blockages in the corresponding organs can be healed.
Foot reflexology does not claim to be the cure to any health problem. But it simply makes a valid case for stimulating and awakening different body organs by applying pressure on the foot zones.
Much to skeptics' doubts, foot reflexology does not pose any adverse health effects but rather helps to stimulate and induce healing. If anything, a good foot reflexology massage can help you relieve pain, unwind and relax.
Combining Essential Oils and Foot Reflexology
Many of us interested in the natural health world are aware of the power of essential oils. Extracted by gathering the precious minuscule oils found in plant materials, essential oils are rich in unique compounds that have amazing healing properties.
One common way of using essential oils that is commonly found around the internet is using essential oils by applying them on the foot, as a part of foot reflexology healing.
This is actually a great idea and another good way to use essential oils. However, in today's article let us clear some common myths that are fervently pushed around the internet when it comes to essential oils and foot reflexology!
Myths about Essential Oils and Foot Reflexology
Unfortunately, there are many myths surrounding the use of essential oils in foot reflexology, which ends up making the science of reflexology seem bogus and lose credibility.
"The feet are the best place to apply essential oils"
Actually, no. The feet are a good place to apply essential oils, but they certainly aren't the best! In fact, the average rate of absorption of products applied on the skin is 10%. But the feet have an absorption rate lower than this because of the thicker skin.
In fact, the places with the highest absorption rate are the face and neck, where skin is thinner.
"Essential oils can be applied NEAT on the feet"
This one almost cracks me up, except for the fact that applying essential oils neat or undiluted can be downright dangerous!
Just because the skin on the soles of the feet is thicker, is no excuse to dabble with essential oils at 100% concentration. Not only may this cause irritation or allergies in the long term, it can also lead to toxicity and sensitization.
"Essential oils are absorbed into body organs when applied on the feet"
Wow. So when essential oils are applied on various foot zones, the oil particles just magically find their way into the corresponding organ?! Another big fat NO.
Yes, essential oils molecules are very small and can easily be absorbed into the blood stream. But believing that the oil makes its way directly from the foot zone to the matching organ is nothing more than magical thinking.
The Bottom Line
Want to apply essential oils to your feet? By all means, go ahead! Essential oils are a wonderful way to massage your feet and be used in foot reflexology. They are more than just pretty scents, and provide medicinal qualities such as alleviating mental problems, relieving pain, reducing inflammation and more!
Here are some guidelines to follow:
Make sure you dilute essential oils correctly before applying them to your feet.
Avoid using essential oils on babies. If you must, make sure you dilute them at a lower concentration than what you would use for yourself. Please read: Essential Oils for Babies.
Always remember to go to your doctor if you are facing any concerning health issues. Getting a proper diagnosis is important. You may then start using natural remedies such as essential oils, along with your prescription medication, to begin your healing process.
What are your thoughts on essential oils and foot reflexology? Have you had positive results? Share in the comments below!