Whether you are a beginner or a long term user of essential oils, it's always interesting to find out the many ways in which essential oils are extracted.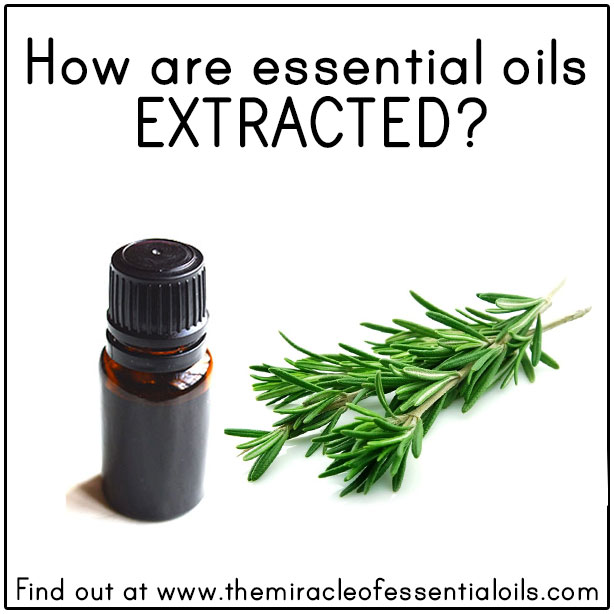 How are Essential Oils Extracted?
How are essential oils extracted? And does the method of extraction matter at all?! Many people don't give much thought into the process of extraction and the labor that goes into producing essential oils.
But knowledge of essential oil extraction methods is not just interesting, it's empowering, too. Knowing how essential oils are extracted can help you make better decisions when buying essential oils, as well as when using them.
Top 5 Essential Oil Extraction Methods
Throughout history, there have been quite a few techniques that have been used to extract these precious oils. Some of them are still in use currently, while others have become redundant due to intensive labor, inefficiency or extremely long extraction times.
Here are the top 5 extraction methods used today:
» Steam distillation
Steam distillation is the most popular method of essential oil extraction and has been used for hundreds of years.
In this process, steam is passed through plant materials. The steam ruptures the cell membranes and releases the oils locked within.
These oils are then carried via the steam into a condenser where it condenses and collects as a liquid puddle at the bottom of the condenser.
The oils float above the water and are then separated. The oil portion is now called an essential oil while the water portion is called a hydrosol.
Did you know that you can extract your own essential oils right at home? Use this essential oil home distillation kit and extract your own essential oils!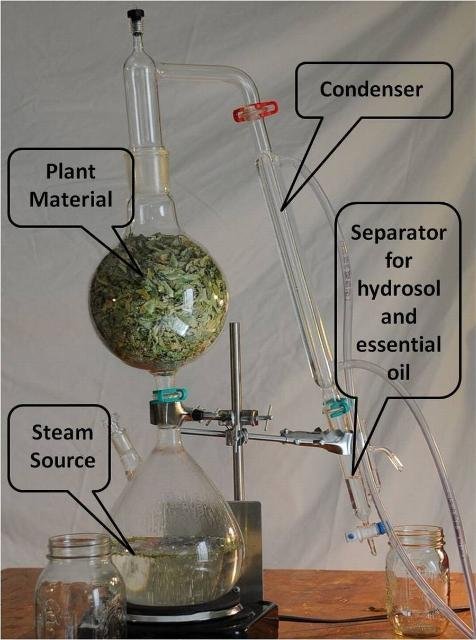 » CO2 extraction
Also known as super critical fluid extraction, CO2 method is a modern development that is used by some companies.
The plant material is treated with liquid carbondioxide (CO2) at very high pressure, which extracts the oils in the same way as solvents do.
Once the oil is extracted, the liquid carbondioxide is turned back into gas and completely removed from the end process when it evaporates.
The equipment for CO2 extraction is much more expensive than steam distillation equipment and the research on the effects of this extraction are lacking.
The resulting oil is often noted to be much more pleasant and crisp aroma compared to steam distilled oils.
» Cold pressing
Ever squeezed an orange rind and noticed some oil oozing out? Well, this is pretty much the same way essential oils are extracted in cold pressing.
Extraction of oils using cold pressing is only done for citrus oils such as lemon, grapefruit, orange, bergamot and others. The rinds of these fruits are pressed using heavy weights and mixed with cold water. The oils float above in the water and are then separated to extract the oils alone.
The concerns with this process of extraction include the fact that citrus fruits are heavily sprayed with pesticides. These pesticides residues are often contained in cold pressed oils. This is why it is important to always buy organic when it comes to cold-pressed or citrus oils.
The molecules in cold pressed oils are also much larger than those in steam distilled oils. This may mean that they have a lower skin permeability rate than steam distilled oils.
» Solvent extraction
Have you ever come across oils labeled as 'absolute'? Perhaps you saw jasmine absolute or vanilla absolute.
Some consider absolutes to not be essential oils, in the strictest sense because they are extracted in a complex manner using chemical solvents or alcohols. Solvents such as hexane are used to derive the oils from plant material.
These solvents are again removed from the oils in a complex process. However, a trace amount of solvents may be left behind in the oil, which is why they must never be consumed.
Solvent extracted oils may also cause allergic reactions in children or those with sensitive skin.
But for some oils, solvent extraction may be the only way to extract because other methods may not work. In other cases, solvent extraction can be a safer way to extract maximum oil without damaging or denaturing their properties.
Absolute oils are still highly aromatic and even more concentrated than essential oils so must be treated with care.
» Phytonic process
Also known as florosol extraction, this is the latest advancement and the most recently developed technique for essential oil extraction. The name 'phytonic process' is derived from the word 'phytol', which refers to plant oils. This process makes use of non-chlorofluorocarbons (non-CFCs) in an efficient and non-toxic manner. The process is expensive and is not yet widely used.