Adrenal fatigue, a controversial health terminology, is severely under-diagnosed and sometimes unrecognized by doctors. Safely use essential oils for adrenal fatigue to take your health into your own hands.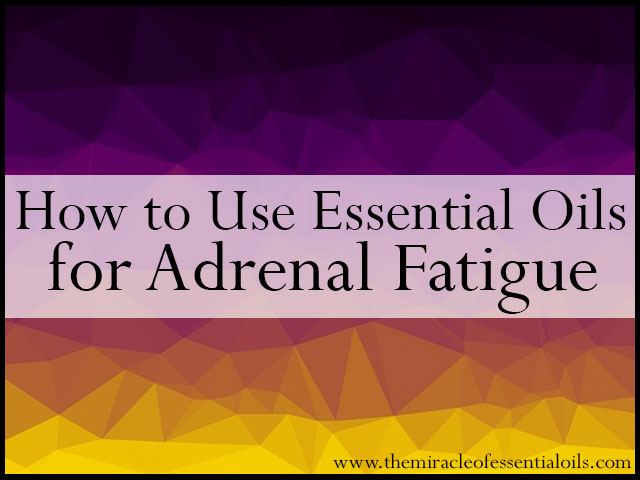 What is Adrenal Fatigue?
Adrenal fatigue is a term coined by a chiropractor called, James Wilson in 1998. Until today, this is a term that is not accepted by western doctors and the medical community.
Adrenal fatigue (also known as hypoadrenia) is a condition where the adrenal glands are believed to be exhausted and incapable of producing adequate quantities of hormones.
The adrenal glands are tiny organs found atop each of the kidneys and are responsible for producing over 50 hormones that play vital roles in almost every bodily function.
Some of the important hormones that the adrenal glands regulate are:
Adrenaline – stress hormones, regulate heart health and blood pressure
Cortisol – regulates blood sugar, manages immune response
Dopamine – neuron transmitter, responsible for the reward-motivated behavior
Sex hormones – estrogen, progesterone and testosterone
And many others
When the adrenal glands produce too much or too little hormones than what the body requires, it leads to diseases, disorders and adverse conditions in the body.
Considering Essential Oils for Adrenal Fatigue
Essential oils are potent natural substances, consisting of volatile, hydrophobic liquids, extracted from herbal plant matter. These oils are highly concentrated and are rich in unique compounds, known as plant terpenes that posses healing and medicinal properties.
Although essential oils have only recently become popular or, dare I say, "trendy," they have actually been used for many centuries, tracing back to pre-biblical times.
Essential oils are rich in many healing properties that can help treat adrenal fatigue including:
Immune supporting
Anti-microbial
Bactericidal
Analgesic
Hormone regulating
Anti-inflammatory
Anti-spasmodic
Stress relieving
And many more
Essential Oils to Relieve Symptoms of Adrenal Fatigue
» Inflammation: Myrrh, Frankincense.
» Fatigue: Basil, Eucalyptus, Geranium
» Hair Loss: Rosemary, Cedarwood, Thyme, Lavender
» Weight Gain: Grapefruit, Lemon, Peppermint
» Allergies: Eucalyptus, Lavender, Ginger
» Muscle Weakness: Marjoram, Vetiver, Basil, Cypress, Yarrow, Nutmeg, Sandalwood
» Decreased Libido: Ylang ylang, Jasmine, Rose, Vetiver
» Sleeping Troubles: Lavender, Roman chamomile, Neroli, Jasmine, Marjoram
» Poor focus: Lavender, Bergamot, Geranium, Sandalwood, Peppermint
» Depression: Lavender, Sandalwood, Bergamot, Chamomile
» Hormone Regulation: Thyme, Geranium, Clary sage, Aniseed, Lemongrass
» Stress: Thyme , Lavender, Bergamot, Neroli
» Pain Relief: Lavender, Peppermint, Marjoram, Roman chamomile
» Better Circulation: Rosemary, Black Pepper, Ginger, Lemongrass, Peppermint, Geranium
How to Use Essential Oils for Adrenal Fatigue
Here are 3 recipes and ways you can use essential oils for adrenal fatigue for the best results possible:
1. Blend Recipe
This blend brings together essential oils that are pain-relieving, hormone balancing, inflammation reducing and cell regenerating to make a synergistic blend to ease adrenal fatigue.
What you need:
Method:
Measure out your essential oils carefully and transfer them into your empty amber glass bottle using a pipette to avoid spillage.
Now close the cap and shake gently to mix up all the oils.
This is your adrenal fatigue blend. You must dilute it appropriately before using (dilute 5 – 6 drops of the blend in 1 teaspoon of olive oil, for example). You can pull out this blend and use it for foot soaks, detoxifying baths, in massage oils and more.
2. Adrenal Stimulating Compress
Apply this blend of essential oils as a warm compress over your adrenal glands situated in your lower back (in the kidney area).
What you need:
Method:
Heat the coconut oil until very warm and pour it into a bowl.
Now add the essential oils and stir.
Dip your small cotton cloth into the warm oil and apply as a hot compress over your adrenal glands located on top of the kidneys. Repeat on both sides.
Ideally you would do this with a help of a partner, but you can do it yourself, too. Sit on a stool, with your blouse/shirt rolled up to expose the lower abdomen region. Carefully press the cotton cloth dipped in hot oil over the kidney area (located in the back of abdomen).
3. Adrenal Massage Technique with Essential Oils
What you need:
Method:
In a double boiler, melt your shea butter completely.
Take off heat and add the essential oils. Stir thoroughly.
Next pour your massage oil into a container.
Place in the refrigerator for 2 – 6 hours to set.
Now for the adrenal massage, before you have a shower, apply the shea butter massage cream on your kidney area and use your knuckles to stroke up and down both your kidneys, in a stimulating massage. Repeat this stroking motion 200 times. This is actually a Chinese acupuncture massage that works to stimulate and awaken your kidneys, to help with detox and your adrenal glands to help with hormone regulation.
Have you tried essential oils for adrenal fatigue? How have they helped you recover? Please share your story so that you can help others suffering from the same.