Ants can be bothersome little critters that can take over your house if left unchecked. They can swarm leftover food, fall into jam jars and even bite you. Luckily you can get rid of them using essential oils for ants. You won't have to call the exterminator for this one!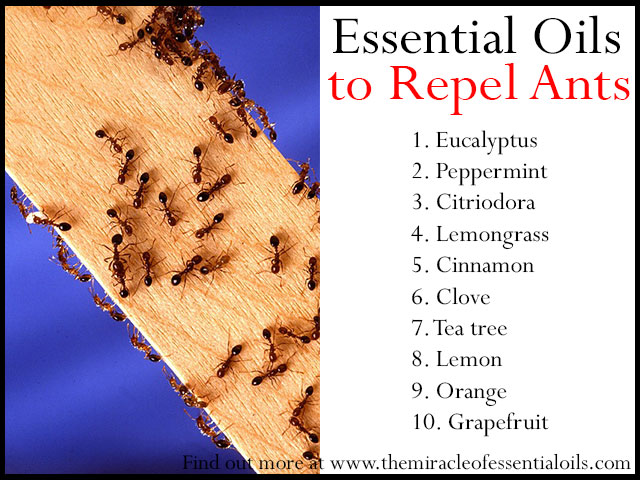 What are Ants?
Ants are hardy little insects that have survived since the dinosaur times. Their hardy exoskeletons, social structure and complex communication skills give them an edge over other insects and enable them to survive even in tough environments.
There are many types of ants including red fire ants, leaf-cutter ants and common household ants. Ants will bite if they feel threatened.
Ants are really strong, they can carry several times their body weight. They have colonized almost every corner of the earth, except for the Antarctic region.
Though ants are such sturdy creatures, we can easily make use of natural remedies like essential oils to get rid of them safely.
How Do Essential Oils Help Repel Ants?
Essential oils are completely natural, plant-based oil extracts that have strong, potent aromas.
The strong aromas in some essential oils can help get rid of ants by confusing their signals and masking their scent trails that they use to communicate with other ants.
Once the aromas in essential oils make it difficult for ants to get around your house, they will either starve without food or they will relocate to another place (such as outside of your house), which is what we want!
Top 10 Essential Oils for Ants
How to Use Essential Oils for Ants
» 1. Ant Repelling Spray
This DIY spray contains ant repelling essential oils that can keep ants from taking over.
What you need:
Method:
Pour all the ingredients into a 8 oz spray bottle.
Screw on the top and shake to mix all the contents.
Spray on counter tops, side boards and other areas where ants crawl.
You can also use this as a cleaning solution to wipe down all areas where ants crawl.
» 2. Ant Deterrent Balls
Ants hate the scent of lemons and these cotton balls will slowly diffuse the aroma to keep ants away. The strong scent of lemon masks the trails ants use to communicate with each other.
What you need:
Method:
Pour 4 drops of essential oil per cotton ball.
Place the cotton balls in strategic areas of your kitchen or house, such as in the cabinets.
Refresh the cotton balls by sprinkling more essential oil every day.
» 3. DIY Ant Powder
This is a non essential oil remedy but I am mentioning it because it works so well to get rid of ants. Make potent ant powder containing diatomaceous earth, whose crystals contain razor sharp edges that cut through the ant's exoskeleton as they try to pass through. This will gradually dehydrate the ants and kill them.
What you need:
Method:
Sprinkle diatomaceous earth on all areas where ants tread, such as the window sill, under the cabinets etc
The next day clean it off and sprinkle fresh diatomaceous earth.
Keep repeating until the ants are gone.
What are your favorite essential oils for ants? Share your recipes in the comments below!