Using essential oils for anxiety is becoming very popular lately as more and more people are discovering the therapeutic power of these natural gifts from plants.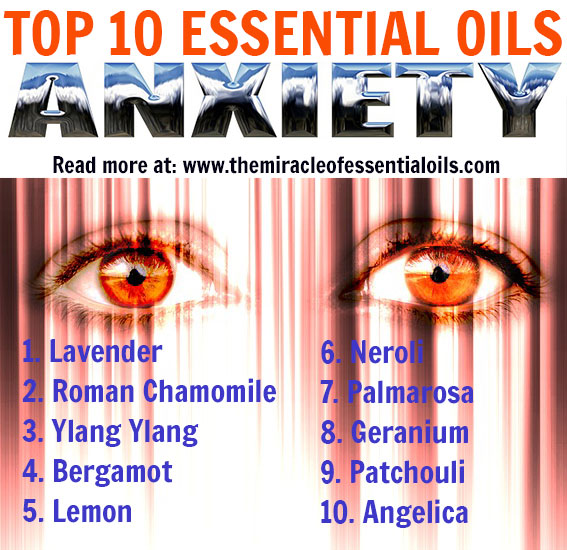 Anxiety is Good … Anxiety DISORDER is NOT
Anxiety is a subjective emotion that varies from person to person. It is generally comprised of feelings of dread or nervousness about upcoming events, such as the feeling of imminent death. Short term anxiety is actually a perfectly normal emotion, such as anxiety related to an upcoming exam, sports competition or solo performance. Anxiety can even be seen as a good thing, as it pushes you to work harder, prepares you for the event and momentarily boosts up your adrenaline to help you perform better.
But for some, this feeling lasts chronically and persistently and is known as chronic anxiety and excessive worry. Many suffer in silence with chronic anxiety for years, without receiving professional help. When left unchecked, chronic anxiety can develop into anxiety disorder.
Anxiety disorders are actually categorized into 6 major types, and these include:
Generalized Anxiety Disorder – This type of anxiety is the most common disorder and it comprises of constantly feeling that something bad is going to happen. When constant worrying and overthinking disrupt your day-to-day activities, you may be suffering from GAD. Physical symptoms of GAD include restlessness, fatigue, insomnia and digestive trouble.
Panic Attacks and Panic Disorder – A panic attack is a sudden oncoming of acute anxiety with the feeling that there is no way out. Panic disorder is repeatedly experiencing panic attacks and the fear of experiencing a panic attack at any time. Physical symptoms include restlessness, fast beating heart and trembling.
Obsessive Compulsive Disorder – Commonly known as OCD, this type of anxiety is characterized by thoughts or habits that seem impossible to control. Examples of OCD including frequent obsessive washing of hands, or a persistent mental worry about something like whether you turned off the oven before leaving your house or not.
Phobias and Irrational Fears – A phobia is an overblown irrational fear of an object, person, or situation that poses little or no threat in real life. Common phobias include the fear of snakes, aliens or closed enclosed spaces. In many cases phobias, such as the fear of heights, are often cured when you face the fear and survive it.
Social Anxiety Disorder and Social Phobia – Social anxiety disorder is the crippling fear of saying or doing something embarrassing in public and being viewed negatively by people. People with social anxiety disorder may prefer to stay home and be isolated. One common type of social anxiety is performance anxiety or stage fright.
Research on Essential Oils for Anxiety Disorder
Aromatherapy has long recognized the power of essential oils in treating anxiety and managing anxiety disorder. Being so popular and with high success rates in aromatherapy, a lot of scientific research has been carried out on the effect of essential oils for anxiety.
A study published in the European Journal of Preventative Cardiology in 2012 proved that essential oils were able to significantly reduce anxiety levels, improve peaceful sleep and reduce the stress-induced cardiovascular damage. (1)
The essential oils studied include lavender, neroli and roman chamomile, which form the list top 10 essential oils for anxiety below.
How Can Essential Oils Help Eliminate Anxiety?
Remember, in order to cure and eliminate anxiety disorder, a holistic approach must be taken. This involves an in-depth reform of your entire lifestyle and habits. Changes may entail dietary alterations, exercise, psychological therapy and more.
Having said that, it is evident that essential oils can form an important part in helping you recover from anxiety disorder. Essential oils can help dispel anxiety on a daily basis as well. Here are the general ways in which essential oils can help overcome anxiety:
Essential oils can help address common symptoms of anxiety such as insomnia, restlessness and panic.
Stress, a major trigger for anxiety can be significantly reduced with essential oils.
The gentle sedative properties of essential oils can also help to invoke a sense of calm and relaxation, which can help pacify those with anxiety.
Top 10 Essential Oils for Anxiety Disorder
There are hundreds of essential oils in the world but only a few work wonders for anxiety. In the list below, I have selected the top 10 most powerful essential oils for relieving anxiety and for managing anxiety disorder:
Other Natural Ways to Heal Anxiety
Make Time to Meditate – Once Buddha was asked, "What have you gained from meditation?" He replied, "Nothing! But I will tell you what I have lost: Anger, Anxiety, Depression, Insecurity, Fear of Old Age and Death."
Meditation works. Learn how to meditate and make it a daily part of your life.
Emotional Freedom Tapping for Anxiety – Emotional Freedom Tapping or EFT is a mind technique that combines a form of acupuncture known as meridian tapping, and the repetition of affirmations. By repeatedly tapping certain meridians, or points in the body, and saying empowering, anxiety-fighting affirmations, we can reprogram our minds and bodies to overcome the devastating effects of anxiety.
Check Your Diet – Certain foods are now being identified as anxiety-inducing culprits. Some of these foods include: artificial food colorings, MSG (monosodium glutamate) and even in some cases, gluten. Try eliminating processed foods and substituting with wholesome, fresh food for some days and see the effect it has on your anxiety levels.
Eat More Fermented Foods – Scientists are now finding out that after the brain, the next biggest source of hormones like serotonin is actually in the gut. Those suffering from chronic anxiety may find that their gut flora is imbalanced and therefore they are suffering from poor absorption of nutrients, hormonal imbalances and a weakened immune system.
Indulge in plenty of fermented foods such as kefir, sauerkraut, yogurt, kombucha and miso soup to rebalance your gut bacteria. You may find that this will make a phenomal difference to your anxiety levelsl.
Meet Good People in Real Life – Today with the reign of social media and technology, we rarely step out of the house to meet REAL people. This can lead to loneliness, isolation, people-phobia and social anxiety.
Loneliness creates the foundation for most anxiety disorders. Make it a point to meet up with good people, those who care for you or share the same interests as you. Spend time with them in the real world and you will soon find yourself becoming more balanced.
Play – Adding on to the previous point, one author found the secret to curing anxiety…PLAY. Get out there are play, for fun or competitively. When we were children, we had not a care in the world. We would get plenty of sunshine and fresh oxygen in the great outdoors. We would play for hours outside and we were so happy and joyful. What happens as we grow up? We stay cooped up at home finishing assignments, watching TV, browsing the internet or working overtime. We slowly stop playing and consequently, our anxiety levels skyrocket. Make time for some care-free, child-like play in a natural setting.
References
(1) http://cpr.sagepub.com/content/21/1/57.abstract