Affecting more than 46 million people in America, arthritis is a debilitating condition that is not properly addressed in conventional medicine. Complement your healing protocol with 20 powerful essential oils for arthritis, to provide relief against all the symptoms of the condition.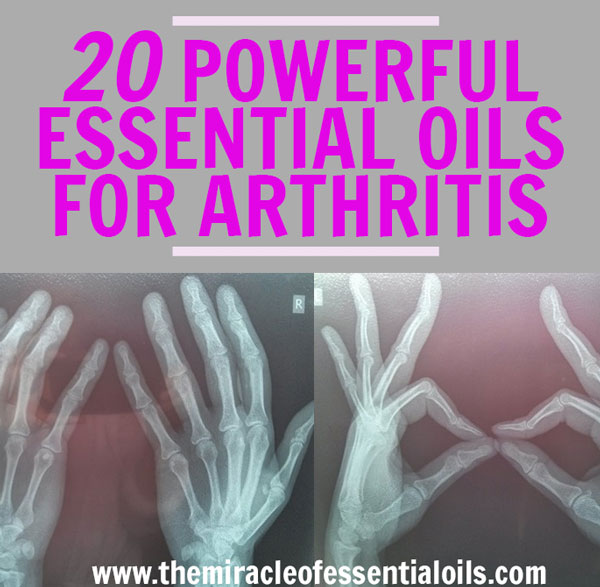 Arthritis is a blanket term used to cover any dis-ease that affects the joints. In fact, there are over 100 types of arthritis, with the most common forms being rheumatoid arthritis, osteoarthritis, gout and fibromyalgia.
The general symptoms of arthritis include, but are not limited to:
Localized swelling
Stiffness of joints
Inflexibility and pain moving joints
Redness and warmth in the affected joints
In the United States and Australia alone, more than 20% of the population is affected by arthritis. Although the disease becomes more common with age, more and more young people are beginning to be affected by arthritis.
Suffering from arthritis can really affect the quality of your life, create psychological issues including depression and stress and can cause people to reduce their attendance to social gatherings.
The Case for Natural Treatment of Arthritis
While arthritis is a pressing concern and a growing epidemic, the conventional treatment for the ailment is far from holistic and does not provide a cure.
General treatment includes pain medication such as ibuprofen and paracetamol. Physiotherapy is sometimes prescribed. In severe cases, joint replacement is recommended by doctors.
The trouble with conventional arthritis treatment is IT DOES NOT ADDRESS THE ROOT CAUSE OF THE DISEASE. Inflammation is at the root of arthritis, yet conventional medicine does not even try to eliminate the chronic inflammation that is causing the disease.
Instead, they try to subdue the symptoms with a multitude of pain medication and tell the patient to get used to their new life with a debilitating condition.
I don't know about you, but something about that does not settle well with me. In fact, many people are now waking up to natural remedies for the treatment of chronic diseases like arthritis.
Along with a holistic natural treatment plan, the power of essential oils can be harnessed to support the healing of arthritis.
How Do Essential Oils Help Treat Arthritis?
What makes essential oils effective in treating arthritis? That's a good question and in order to answer that, we must first understand the nature of essential oils.
Essential oils are nothing more than concentrated plant essences that are extracted by cold pressing or distilling various plant materials. Many pounds of plant material such as flowers, stems or roots are needed to create just a few drops of essential oil. Being so potent, essential oils are powerful medicinal healers that have been used for many millennia.
Some of the characteristics that make essential oils good for arthritis include:
Anti-inflammatory properties – As inflammation is at the root of arthritis, using essential oils, which naturally contain high anti-inflammatory properties, is a great way to combat inflammation and directly reduce and heal arthritis.
Antioxidant properties – Those suffering from arthritis are found to have more oxidative stress or free radical damage in their bodies. Essential oils are a rich source of antioxidants that can help your body to fight free radical damage on your joints, which aggravates arthritis.
Analgesic properties – Essential oils have great pain relieving tendencies, comparable to many over-the-counter drugs. While OTC drugs come with nasty side effects, essential oils are a more natural and safer way to address pain.
Besides the above, essential oils also help to form a complete treatment for arthritis by addressing the mental health of those suffering with the condition.
Truthfully speaking, the mind plays a huge role in the manifestation and elimination of a disease.
Conditions such as chronic stress, tension and depression, over years, create a perfect environment for the development of many diseases such as arthritis, high blood pressure, cancer and more.
The aromatherapy benefits of essential oils help to pacify, calm and relax the mind and begin the process of healing, starting with the mental realm. Some essential oils even dispel depression, anxiety and create grounding.
List of Top 20 Essential Oils for Arthritis Treatment
Here are the top 20 essential oils for arthritis treatment that can be used alongside conventional treatment. Make sure you consult your health care professional before using essential oils as part of your treatment.
How to Use Essential Oils for Arthritis
It's easy to incorporate these essential oils into your life – you just have to get a little creative. These are some ways in which you can use the above oils:
Diffusing Essential Oils
Diffusing essential oils is the simplest and least time-consuming way to bring essential oils into your daily regime. Simply add a few drops of essential oil into your non-plastic essential oil diffuser.
Lavender, sandalwood and orange are wonderful mood-lifting and pacifying essential oils that you can diffuse to calm your mind and help you cope with the symptoms of arthritis.
Healing Massage Blend for Arthritis
The best method to relieve arthritis pain and discomfort is by getting hands-on and giving yourself a deep massage. If you're lucky you can even get your partner or friend to give you a free massage! To make this massage oil, simply mix the following ingredients together in a 4 oz amber glass dropper bottle, and massage all over your joints:
1/2 cup of sesame oil (where to get it)
20 drops of peppermint essential oil
20 drops of chamomile oil
20 drops of sandalwood essential oil
10 drops of wintergreen oil
10 drops of myrrh essential oil
Add Anti-Arthritis Essential Oils to Your Bath
Every 1 – 2 times a week, indulge in a detoxifying clay bath with essential oils. This will not only help you to relax, but will also help greatly reduce the pain and inflammation associated with arthritis. Furthermore, the clay and Epsom salts contained in the bath will help your body detoxify and get rid of toxins that trigger chronic inflammatory response by the immune system. Simply add the following to a tub full of warm water:
1 cup of Epsom salts (where to get it)
1 cup of bentonite clay (where to get it)
30 drops of vetiver essential oil
20 drops of ginger essential oil
20 drops of lemon grass essential oil
10 drops of rosemary essential oil
If your skin is sensitive, please reduce the amount of essential oils in the above recipe.
Caution
As essential oils are so potent, caution and a regard for safety must be exercised. Here are some tips to follow:
As always, consult your doctor before using any essential oil.
Some essential oils may react adversely with certain medications. Some essential oils are best avoided for those suffering with other conditions. For example, those with high blood pressure should avoid rosemary oil. Consult a thorough book on essential oil safety or book an appointment with a registered aromatherapist to find out which oils may not set with you.
Always do a patch test before using any essential oil in order to make sure you do not develop allergic reactions. To perform a patch test, simply apply the diluted essential oil onto your wrist and wait for a minimum of 2 hours to see if you develop any negative reactions such as redness, itchiness or rashes.
Do not use the same essential oils over a long period of time. This may cause you to become desensitized to its effects. There are many anti-arthritic essential oils to choose from, so try to vary them from day-to-day or week-to-week so that you can maintain their full effectiveness on you.