Learn how to use essential oils for asthma in a safe manner, to control breathing difficulty and to prevent asthma attacks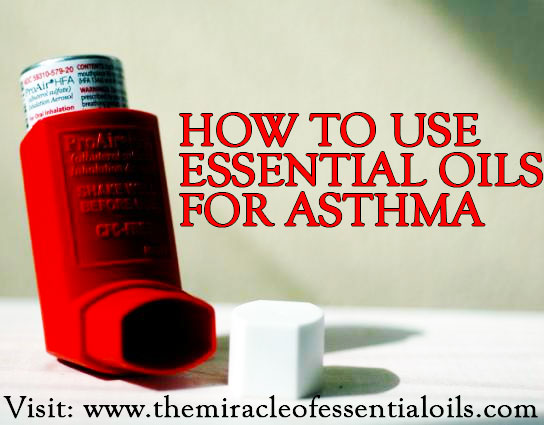 What is Asthma?
Asthma is a chronic respiratory condition where the airways within the lungs become inflamed and constricted, making breathing difficult.
The air sacs within the lungs, called alveoli, sometimes become extremely inflamed, causing extreme narrowing that hinders oxygen from being absorbed by the body, known as an asthma attack.
Asthma attacks can be deadly, life-threatening and create brain damage if the brain is deprived of oxygen for too long.
Some of the symptoms of asthma include:
Wheezing
Chest tightness
Coughing
Breathing difficulty
Asthma can be triggered by allergies such as pollen, harsh chemicals found in perfume or air fresheners, exercise, and even stress.
As with most chronic diseases, western medicine does not have a cure for asthma. The condition is instead 'managed' with drugs such as albuterol, montelukast, and prednisolone, which may be delivered through an inhaler.
As children with asthma grow up, they get a better understanding of their allergies, and learn what triggers their asthma, and do their best to avoid them.
Is it Safe to Use Essential Oils for Asthma?
You may find conflict information on whether to use essential oils for asthma or not. Some say 'do not use essential oils if you suffer from asthma.' Others say 'essential oils are amazing natural healers for asthma relief.' Which is the truth?
Dr. Hayes, MD, blogging at www.chadhayesmd.com, actually has a popular post discouraging people from using essential oils for asthma.
He says, "we don't yet have enough information to know what conditions [essential oils] might treat (especially in children), and that they do have risks associated with them."
But he couldn't be farther from the truth.
Studies Showing Essential Oils Help Asthma
It's true, there are limited studies carried out on essential oils and their effect on asthma. But this does not mean they don't work.
Study One: One such study showed that essential oils of thyme and eucalyptus play an important role in the treatment of respiratory diseases like bronchitis and asthma. (3)
Study Two: Yet another study showed that inhalation of lavender essential oil suppresses allergic airway inflammation and asthma. (2)
Essential oils have been used for thousands of years, they are completely natural and there are so many testimonials available to read on the internet, about how essential oils have helped real life people like you and me.
Yes, it's true that like all things, essential oils also have risks associated with them. For example, you should not use them if you are allergic to them. You must dilute them appropriately before using them. You must not ingest them. By exercising common sense, safety and caution while using essential oils, you can avoid any 'risk' that comes with using them.
Many people seem to believe that he is discouraging the use of essential oils for asthma all together, but that is not the case. He says that essential oils should not be a replacement for asthma medication prescribed by the doctor.
I agree. Use these essential oils as a natural remedy for asthma treatment, along with prescribed medication from your doctor. You may find yourself having to use less of your asthma medication, when using essential oils – and this is a good thing, because prolonged use of asthma medication cause dangerous side effects, including organ damage.
How Can Essential Oils Help Relieve Asthma
Essential oils help relieve asthma by
Reducing stress, which can trigger asthma
Strengthening the immune system
Promoting easier breathing
De-congesting the lungs and helping in easier expelling of mucus
Top 10 Essential Oils for Asthma

How to Use Essential Oils for Asthma
1. Foot Roll-on Blend

What you need:
Directions
Using your glass pipette, transfer the essential oils into a glass roll on bottle.
Place the roller ball and the cap tightly and shake to get the blended mixed up.
Roll this on the bottom of your feet, in the upper balls of your feet between your big toe and your pinky toe (these are the foot reflexology points correlated to the lungs)
2. DIY Inhaler
You can make your own DIY essential oil inhaler by recycling an old inhaler that you already have.
What you need:
Aromatherapy inhaler (where to get it)
2 drops of eucalyptus
2 drops of frankincense
1 drop of bergamot
1 drop of peppermint
Directions
Remove the wick from the inhaler and saturate it with the essential oils mentioned.
Now place the wick back into your inhaler and close it.
Use this inhaler as many times as you wish during the day.
Note: This DIY inhaler is NOT a replacement for your prescribed asthma inhaler. It can just be used alongside your asthma inhaler to relieve breathing trouble. Please pass it through your doctor before use.
3. Asthma Rub
Make a simple chest rub to relieve asthma, especially during the night.
What you need:
Directions
In a double boiler melt the shea butter until fully liquefied.
Take off heat and allow to cool a bit.
Now add the essential oils and stir to combine the oils.
Pour into an old container or a 4 oz glass container and allow to "set" by placing in the refrigerator overnight.
Now use this chest rub by applying it all over the chest. It can help in de-congestion and can clear the airways, helping your breath better.
Note: Always patch test to make sure that you are not allergic to essential oils before using them.
References
(1) https://www.ncbi.nlm.nih.gov/pubmed/15005885
(2) https://ncbi.nlm.nih.gov/pubmed/24909715
Have you tried essential oils for asthma and how did they help you? Please share your story in the comments so others can be inspired.