Losing your hair slowly by slowly not only affects your physical appearance but also your emotional well-being. Learn how to use 7 essential oils for balding to stop hair loss in its tracks and re-grow your hair.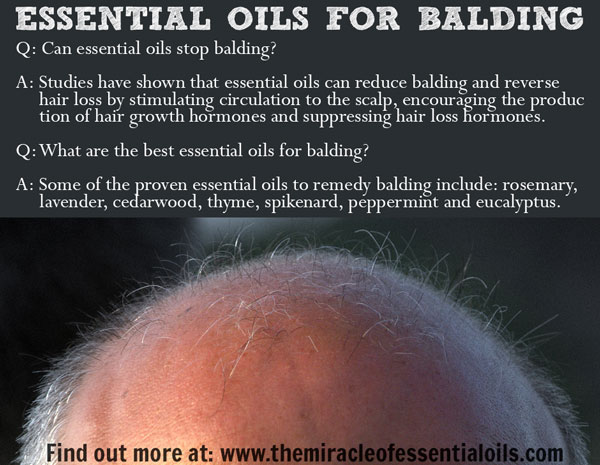 What is Balding?
Balding is also known as hair loss or alopecia in medical terms, and it refers to hair loss from part of the head such as the back of the head for men. Some of the common types of balding include: male pattern balding, female pattern hair loss, alopecia areata and telogen effluvium. While alopecia areata is an autoimmune disease, male pattern balding is caused by genetic and male hormones and telogen effluvium is caused by a physically or psychologically stressful event. The cause of female pattern hair loss remains unclear.
Some of the other causes of balding include iron deficiencies, chemotherapy, certain medications, certain diseases and hypothyroidism.
Below, let's look at how essential oils help with balding:
How Do Essential Oils Help Balding?
Essential oils are pure plant extracts derived from steam distillation or mechanical expression of aromatic botanicals such as the tree bark, roots, leaves, flowers, fruit rinds and resin of trees and plants. They are made up of several chemical compounds including terpenes, ketones, oxides, phenols, esters and others which are said to give each oil its specific aroma and therapeutic properties. Below are some of the properties of essential oils that help balding:
Stimulant properties: Essential oils have stimulant properties that invigorate the hair follicles and increase blood circulation in the scalp. This nourishes each and every hair follicle, even those trapped in the telogen or dormant phase, with nutrient-rich blood which nourishes them, enabling them to function normally again.
Antimicrobial, antibacterial, anti-fungal properties: The antimicrobial, antibacterial and anti-fungal properties of essential oils fight scalp-irritating germs and microbes hence protecting it from hair loss due to fungal scalp infections and others.
Anti-inflammatory properties: Some types of hair loss are due to inflammation or scarring such as radiation therapy, fungal infection, lupus erythematosus, and sarcoidosis, among others. Essential oils have anti-inflammatory properties that reduce scalp inflammation.
Research on Essential Oils for Balding
Study One: Essential oils, in particular rosemary, thyme, cedarwood and lavender oil, are a safe and effective treatment for alopecia areata (read more)
Study Two: Rosemary oil is proven to have clinical efficacy of rosemary oil in the treatment of androgenetic alopecia, also known as male or female pattern baldness (read more)
Study Three: Research shows that spikenard oil showed positive effects on hair growth activity (read more)
Top 7 Essential Oils for Balding
2 Essential Oil Recipes for Balding
Below are two of the most effective essential oil recipes for balding and hair loss:
1. Vigorous Scalp Massage Blend

What you need
Method
Add all oils to an amber glass dropper bottle and shake well to mix them up.
Store in a cool dry place.
To use, use the dropper to place a few drops on the affected areas or all over your head and massage vigorously using your finger tips for about 3 minutes.
Keep it on overnight then wash off the next morning.
2. Hot Oil Treatment

What you need
Method
Put the pot containing the water over a stove top and heat over a medium low flame.
Place the coconut oil and jojoba oil in the heatproof bowl and rest the heatproof bowl over the pot containing water.
Let the water boil and gently heat the coconut jojoba mixture.
Once the mixture is warm to touch but not hurt yourself, turn off the flame and remove the bowl.
Now add the essential oils and give it a quick stir.
Your hot oil treatment is ready.
To use, spoon a little of the mixture all over your head then once your entire scalp is saturated, massage the oil into your scalp.
Cover your head with a shower cap and let the oils penetrate for at least 30 minutes.
When the time is up, wash your hair thoroughly to remove all the oils.
References
(1) https://www.ncbi.nlm.nih.gov/pubmed/9828867
(2) https://www.ncbi.nlm.nih.gov/pubmed/25842469
(3) https://www.ncbi.nlm.nih.gov/pmc/articles/PMC3113354/