A condition that can affect all age groups from infants to the elderly, bronchitis is a common lung health problem. Learn how to use essential oils for bronchitis support and management in this article.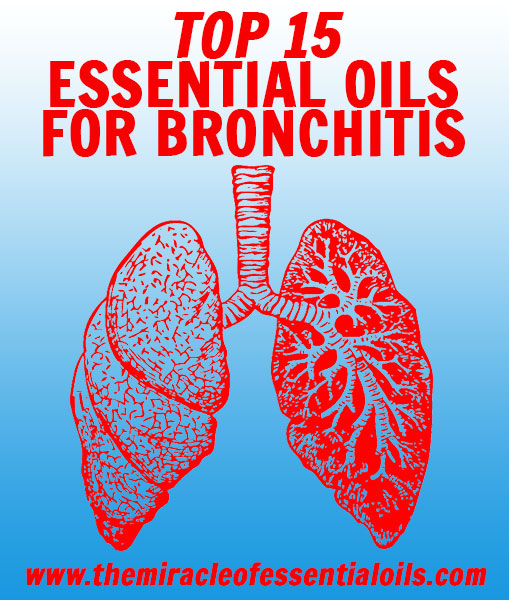 What is Bronchitis?
Bronchitis is a lung disease that arises due to inflammation of the bronchi, which are large and medium-sized airways in the lungs. There are two types of bronchitis including acute and chronic bronchitis. Acute bronchitis, also known as a chest cold, is the more common of the two, with about 5% of adults being affected and 6% of children having at least one episode a year.
Some of the symptoms of bronchitis include:
Wheezing
Shortness of breath
Chest discomfort
Fever
Coughing up mucus
In case of chronic bronchitis, tobacco smoking, air pollution & genetics
How Do Essential Oils Help Bronchitis?
Essential oils can simply be described as powerful plant extracts in liquid form. They are obtained from aromatic parts of plants such as the tree barks, leaves, roots, flowers, seeds, stems and resin through steam distillation or cold pressing.
Essential oils have a wealth of therapeutic benefits when inhaled and their aroma compounds and molecules travel into the respiratory system and enter the blood stream. What makes essential oils good for bronchitis is their healing properties which include potent anti- inflammatory, antibacterial, analgesic, anti-spasmodic and decongestant properties.
Below, is a list of compelling research and evidence that shows how beneficial essential oils are for treating bronchitis and its symptoms:
Research on Essential Oils for Bronchitis
The following are various studies conducted that show essential oils can be healing for bronchitis, its symptoms and general lung health:
► Study One: Thyme and eucalyptus oils reduce the production of nitric oxide, a substance that plays a role in pathogenesis of inflammatory diseases including asthma, bronchitis (1)
►  Study Two: Linalool (a major constituent of lavender oil) reduces cigarette smoke – induced lung inflammation which is helped for chronic bronchitis caused by smoking (2)
► Study Three: Black pepper oil inhibits one of the bacterial strains that cause bronchitis known as Staphylococcus aureus (3)
► Study Four: Garlic oil is a strong antimicrobial agent that fights pathogens that infect the respiratory tract, including those that are drug – resistant (4)
► Study Five: Cinnamon, thyme and lemongrass oils have powerful antimicrobial effects on some respiratory pathogens that cause bronchitis including Streptococcus pneumoniae (5)
► Study Six: Ginger oil has been shown to fight several bacterial strains, including those that affect the respiratory tract. (6)
► Study Seven: Eucalyptus oil has been shown to eliminate various strains of Staphylococcus aureus, Streptococcus pneumoniae and Haemophilus influenzae that can cause bronchitis, according to research found in the Clinical Microbiology and Infection (7)
Top 15 Essential Oils for Bronchitis
How to Use Essential Oils for Bronchitis

Below are three ways to use essential oils for bronchitis:
1. Steam Inhalation

What you need
A pot of 3 – 4 cups of water
2 drops eucalyptus oil
A towel
Heat source
Method
Boil the pot of water until it turns very steamy then remove from heat source and carefully place it on a table over a place mat.
Sit in front of the pot and throw the towel to over your head to create a tent to trap the steam from the pot.
Now inhale the eucalyptus-infused steam and let it work its medicinal powers in clearing your respiratory tract, promoting clear pain-free and deep breathing.
After steaming, wash your face and enjoy the healing results!
2. Soothing Night Time Chest Rub Blend

What you need
5 drops black pepper or ginger
5 drops thyme
10 drops balsam fir
10 drops basil
2 oz jojoba oil (where to get it)
4 oz glass dropper bottle (where to get it)
Method
Add oils to a glass dropper bottle and give it a gentle shake to combine well.
To use, place 5 – 7 drops on your palm, rub both palms together and deeply rub your chest, throat, back of neck, shoulders and back. You can also apply some on your feet and put on a pair of socks – it's deeply warming and soothing!
Don't forget to wash your hands before retiring for bed.
3. Bed Time Bath Soak

What you need
Method
Draw a hot bath and while the water is running, throw in 2 cups of Epsom salts mixed with 20-25 drops spike lavender. Let it disperse. Stir the bath with your hand.
Immediately step inside and soak for as long as you like, breathing in the 'camphor-ous' steam
References
(1) https://www.ncbi.nlm.nih.gov/pubmed/15005885
(2) https://www.ncbi.nlm.nih.gov/pubmed/26432179
(3) http://www.pjps.pk/wp-content/uploads/pdfs/CD-PJPS-19-3-06/Paper-8.pdf
(4) http://www.sciencedirect.com/science/article/pii/S0023643803001671
(5) https://www.ncbi.nlm.nih.gov/pubmed/11328766
(6) http://www.ajol.info/index.php/eamj/article/viewFile/8804/1736
(7) http://onlinelibrary.wiley.com/doi/10.1111/j.1469-0691.2005.01284.x/full
Using essential oils for bronchitis is one of the ways to get relief from breathing difficulties, congestion, cough, fever and other uncomfortable symptoms fast. Will you try out any of these essential oils?